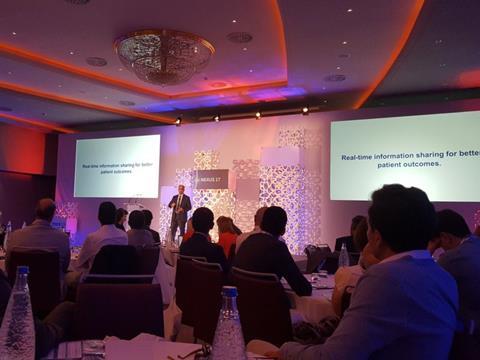 TraceLink Inc., the world's largest track and trace network for connecting the life sciences supply chain and providing real-time information sharing for better patient outcomes, has unveiled an industry first: an integrated Compliance and Digital Information Platform for pharmacies with EU Falsified Medicines Directive (FMD) requirements.
The new mobile and web-based application enables any pharmacy in the EU to easily comply with verification and decommissioning requirements under the FMD while simultaneously delivering a real-time dashboard for business insights on medicine scans, expiry dates, dispensation trends, product inventory and more. The new platform was revealed today at NEXUS 17 in Barcelona during the opening keynote session by TraceLink president and CEO, Shabbir Dahod.
The new Pharmacy Compliance and Digital Information Platform provides a single destination for pharmacies to meet their EU FMD requirements, which take effect in February 2019. Pharmacists who use the application will also benefit from user-friendly dashboard analytics that provide valuable insights from all transaction information that is captured within the application.
Pharmacists can also "opt in" to a service within the app that links them to participating pharmaceutical manufacturers, paving the way for a new digital communication channel designed to enhance the information-sharing between pharmaceutical companies and the healthcare providers who dispense their medications. Once they opt in, pharmacists will be able to receive specific and contextual pharmaceutical product information directly from the manufacturer – including details about indications, usage, best practices for product administration, and potential warnings and precautions - empowering them to deliver a more engaging and informative consultation as they dispense medicines to patients.
"TraceLink has broken new ground with this application, addressing a critical information gap that has existed for decades between pharmaceutical companies, pharmacists and patients," said Dahod. "Our unique approach of connecting the entire pharmaceutical supply chain on an interoperable network makes TraceLink the only company capable of offering this type of solution and facilitating a new era of real-time information sharing that will transform how the industry provides care to patients. This is the first in a series of steps we are taking to augment our effort of eliminating counterfeit drugs from the global marketplace with applications that deliver tangible and meaningful value to an industry that serves hundreds of millions of people who depend on prescription medications to improve their health."
TraceLink's new Pharmacy Compliance and Digital Information Platform merges EU FMD compliance capabilities with real-time insights into pharmaceutical products, offering EU pharmacists the ability to:
Easily submit EU FMD compliance data to their National System – Using the integrated camera on their mobile device of choice, pharmacists can scan the 2D data matrix code on the medicine at point of dispense.
Allow TraceLink to manage all verification and message exchanges with their National System – Once a medicine is scanned, the application sends the data directly to the National System. Upon receiving the query, the National System returns a message to the pharmacist, confirming the verification of the product and decommissioning of the unique serial number. A module on the application will display the scan status of all pharmaceutical products, allowing pharmacists to view all confirmed verifications, failed verifications, dispensed medicines and decommissioned serial numbers.
Gain real-time insights into their dispensing operation – Pharmacists will be able to track ongoing trends, including information on pharmaceutical products that are dispensed most frequently versus those dispensed infrequently within their pharmacy. They will also be able to access the current status of product expirations across their pharmacy, leveraging valuable insights to maintain the safety and quality of the pharmaceutical products on their shelves.
Opt in to receive information directly from pharmaceutical companies – Pharmacists can agree to engage with pharmaceutical companies by receiving permissioned educational product content through the application. Specific product information, including pharmaceutical product images, indications, product administration directions, and other critical information is provided directly by participating pharmaceutical companies.
Enhance delivery of care through an improved patient experience – By leveraging the ability to access real-time information about the medicines they are dispensing, pharmacists and clinicians can now provide more engaging consultations that can be personalised to their patients' clinical conditions.
All services within the Pharmacy Compliance and Digital Information Platform will be provided by TraceLink via its secure Life Sciences Cloud where pharmacists can be assured of the confidentiality and anonymous nature of their dispensing information.
The Pharmacy Compliance and Digital Information Platform for EU FMD requirements is expected to be available by the first quarter of 2018.
Get live udpates from Nexus 17 from Packaging Europe's editor in chief, Tim Sykes.
More info: