In this edition of the Spotlight, SmartPack by AlmaScience (ASc) an applied innovation lab dedicated to advancing smart packaging, tells us about its technologies and solutions. Recognizing the challenges faced by the industry on the path to smarter, more sustainable packaging solutions, the company offers innovation and product managers a 'groundbreaking approach' to tackle these challenges head-on.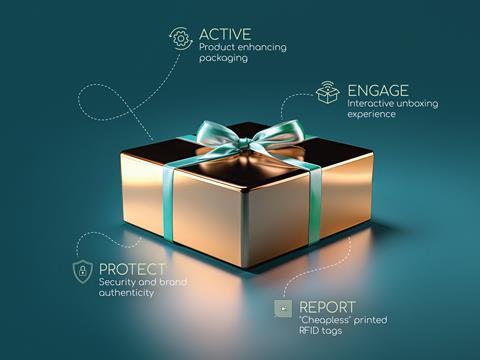 Introducing the 'Appropriate Lifespan' approach
In the fast-paced world of product development, the pursuit of longevity is often paramount. However, not all products, especially packaging, are intended for perpetual existence. This acknowledgment forms the cornerstone of our innovative 'Appropriate Lifespan' approach, reshaping the role of short-lived packaging into intelligent and sustainable assets.
Within this framework, we meticulously consider the entire product lifecycle. Our focus centers on technology solutions utilizing responsibly sourced materials like cellulose and paper. These materials undergo a transformation into active packaging components and even electronic devices through eco-friendly, ultra-low waste production methods. Our commitment ensures that these innovations deliver exceptional business value while minimizing their impact on package recyclability.
A suite of SmartPack solutions
SmartPack by ASc collaborates with innovation and product managers to tailor and integrate the perfect solution for their packaging needs. Additionally, we offer a portfolio of cutting-edge solutions developed within our innovation lab, available for customization and licensing: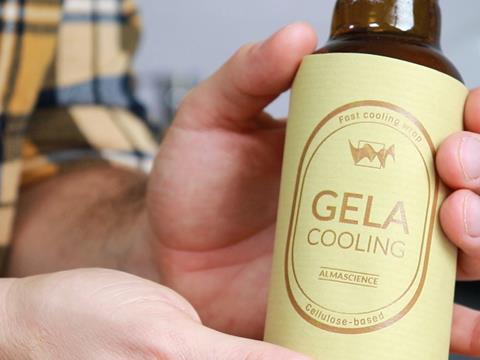 SmartPack Active: nature's efficiency
SmartPack Active makes use of active cellulose and other bio-based materials to enhance the product's performance. One such example is AlmaScience's patented cellulose-based 'GELA' technology. This innovation enables the rapid cooling of primary or secondary beverage and food packaging, ensuring swift and precise temperature control during product service. Importantly, 'GELA' accomplishes this without compromising the packaging's recyclability and commitment to sustainability.
SmartPack Engage: captivating interactions
The SmartPack Engage solution elevates customer interactions and excitement using unique printed patterns that are unveiled to the user in a unique form upon unboxing. The process can be applied to a wide range of paper and packaging materials and has no effect on the recyclability of the package.
SmartPack Report: ultra cost-effective 'Digital Passports'
SmartPack Report uses printed chipless RFID tags for product identification throughout the supply chain, from production to point of sale. Crafted with sustainable carbon-based inks, these tags are so cost-effective that they can even be used as Digital Passport tags on individual fruits.
Imagine a customer seamlessly accessing a pineapple's origin and collection date at a store's weighing station, without having to scan a QR code. Future enhancements will add sensing capabilities to monitor factors like temperature and humidity during the product's journey. When the product's lifecycle ends, the tags seamlessly enter the paper recycling stream, leaving zero e-waste. SmartPack Report enhances visibility and promotes eco-conscious supply chain practices.
SmartPack Protect: product security and brand authentication
SmartPack Protect introduces printed RFID tags alongside innovative and new proprietary, cost-effective, sustainable covert and covert-to-overt brand protection labels with different security levels. Inquire with us for additional details.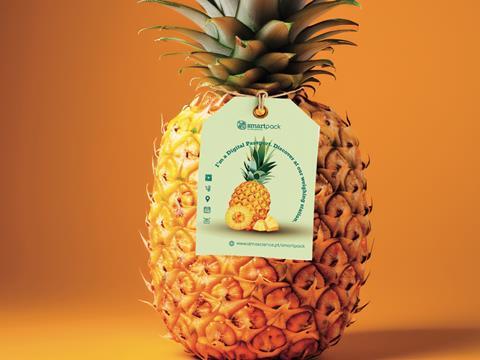 Powered by industry collaboration
SmartPack by ASc is the product of a robust partnership between AlmaScience innovation lab and stakeholders within the Portuguese cellulose, paper, and cork ecosystem. This alliance includes R&D centers, academia, private companies, and public entities, with support from the Portuguese government. This expansive network harnesses our associates' collective expertise, skills, and resources, allowing us to efficiently transform product concepts into practical technological solutions — from inception to market launch.
Join us in shaping the future: SmartPack by ASc invites you to embark on a journey to revolutionize the packaging industry. Together, we can shape a future where packaging is not only smart but also environmentally responsible. Discover more about our groundbreaking solutions and be part of the transformation today at: www.almascience.pt/smartpack.
This content is sponsored by AlmaScience.