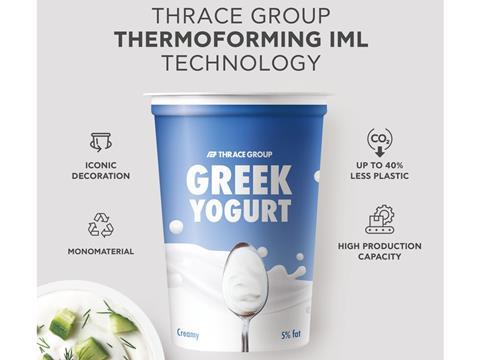 In this edition of the Spotlight, Thrace Group runs us through the reported benefits of its Thermoforming In-Mold Labeling (IML) Technology, from a premium aesthetic to a reduction in plastic, and welcome our readers to its interpack booth.
Introducing the game-changer mono-material packaging solution. The perfect blend of sustainability and aesthetics for your brand.
We believe the future of packaging is circular and we are strongly focused on developing fully circular packaging solutions. This is why, during the production of Thermoforming IML packaging, we use up to 40% less plastic than Injection IML, while retaining excellent functional properties and significantly reducing the CO2 ­­footprint of the final product.
As with all packaging solutions from Thrace Pack and also in this case, the recyclability of the Thermoforming IML cups was a critical milestone. Due to the mono-material approach, which includes the production of the container, closure, and label exclusively from polypropylene (a fully recyclable plastic), the end packaging is compatible with common plastic recycling technologies.
Furthermore, with the Thermoforming IML technology, there is no need to sacrifice the premium look and feel towards achieving environmentally friendly packaging. Due to the full-body, high-quality decoration, which includes high-resolution, photo-quality results, you can make your brand stand out at the point of sale like never before.
Moreover, the option to introduce gas and vapor barrier properties to the final packaging (without compromising recyclability and aesthetics) offers the additional potential to extend the shelf and storage life of content contributing to the reduction of food waste.
All the above specifications are coupled with high productivity, fast realization, and very short development time, providing you with a unique, cost-efficient packaging solution that will help you market your product successfully.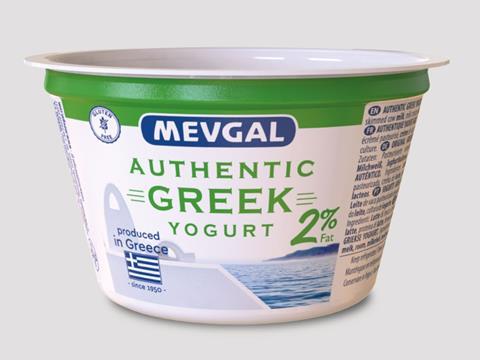 The new IML packaging for MEVGAL's authentic Greek yogurt in 200g and 170g
Meet our packaging experts to find out how our In-Mold Label customized thermoformed solutions can make your packaging stand out and become more appealing to the consumer.
Explore the different options that can add value to your product, such as barcode placement at the bottom of the thermoformed packaging (offering traceability and/or marketing initiatives options), photographic decoration including a transparent window to deliver a partial see-through option of the content, embossing capabilities to cover even Braille codification requirements, and different types of decorative effects like matte, metallized, paper-look, or double-sided labeling.
Thrace Pack is a pioneer in Thermoforming IML packaging, having privately invested, installed, co-developed (along with tooling, machine, and automation manufacturers), and currently hosting in-house, fully operational Thermoforming IML production since 2019.
HOW THE TECHNOLOGY WORKS
Thermoforming IML involves a single-production phase, where the thermoformed packaging is produced and simultaneously decorated with an In-Mold Label (IML).
Briefly, the technology includes the insertion of the IML into the forming tool (prior to forming the end packaging), followed by its subsequent fusion with the pre-heated plastic sheet while forming the final product in a single production step.
Partner with us for a sustainable and unique, visually appealing packaging solution.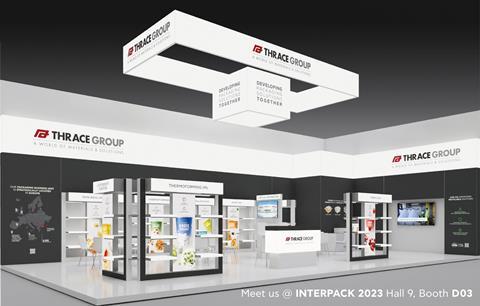 Our packaging experts will await you at INTERPACK – Hall 9, Booth D03.
This content was sponsored by Thrace Group.