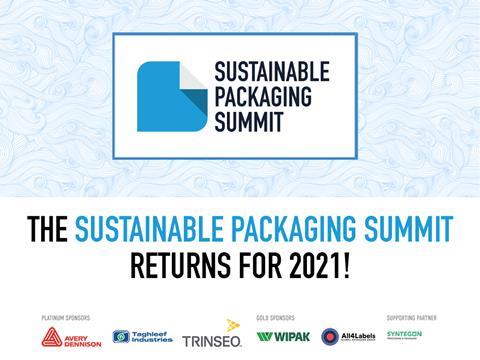 Packaging Europe's Sustainable Packaging Summit is returning for another round of discussions addressing the biggest questions in packaging sustainability.
This year's summit will take the form of a year-round digital/physical hybrid event - with the physical element taking place at FachPack 2021 on 29-30 September, and the digital element happening on our recently refreshed virtual platform.
The digital part of the Sustainable Packaging Summit 2021 kicks off on Thursday 18th February at 14:00 CET with a new session involving key value chain players exploring the key challenges and dilemmas for circularity in flexibles over the coming year. We will be joined by:
Feliks Bezati, global sustainable packaging manager, Mars
Graham Houlder, managing director, CEFLEX
Wladimir Moraes, global market manager for flexible packaging, Bostik
Maik Dworczyk, head of N.E.X.T. innovation centre, Wipak
Florian Constabel, Digimarc Team Manager at Wipak
In the meantime, there's plenty to keep you occupied on the virtual platform – from watching sessions on-demand to making use of the networking feature, which lets attendees contact each other and meet up virtually.
Click here to log-in/sign up for free for the Sustainable Packaging Summit
Click here to download a calendar reminder for next week's event