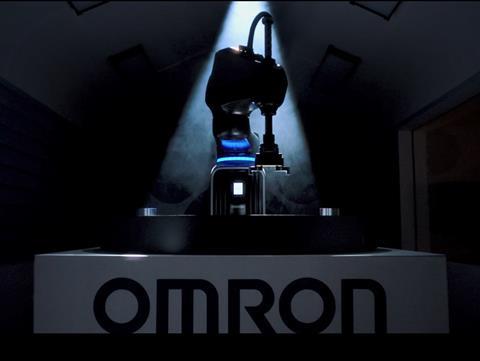 Flexible production to address current and future needs of consumers receives much attention from the manufacturing industry that has embraced Industrie 4.0. The days of rigid production environments are numbered and fast change-overs are a prerequisite to make sure customisation does not affect OEE severely.
Omron has provided successful solutions to realise flexible production in industries like automotive, pharma, and food & commodities. At Automatica 2018 Omron will announce new hard- and software that will further optimise its industry leading portfolio for flexible manufacturing.
To showcase Omron's advanced technologies relating to flexible production at Automatica 2018, Omron features several DEMO's in which production environments are fully simulated. These interactively present the company's core technologies for flexible production and enable visitors to experience today, the leading technology of tomorrow showcasing Omron's Sensing & Control + Think technology.
At Automatica 2018 Omron will publicly announce its advanced New Line of SCARA Robots. The new robots boast more than the world-class sleek design. The compact controller (iCS) is fully integrated into a stylised base, minimising footprint. The connectivity (EtherCAT & Ethernet) is available in the controller and arm. There is no flyover cable, which makes them simple to integrate. The new robots are fully aligned with Omron's core iAutomation solution, which aims to innovate the manufacturing environment with the three key 'i' factors – integrated, intelligent and interactive.
Jose Sousa, Omron's Manager of F&C Solutions and Product Marketing EMEA, explains that there is no such thing as a single approach to realise flexible production: 'All our clients are unique companies, have unique production environments, and unique customers who demand unique products. Omron is very much dedicated to offer tailored solutions that will be the most successful in the long term. As a partner we enable manufacturers step-by-step to go on a joint journey to flexible production. Our motto is to start small and grow big. Omron is uniquely positioned to assist manufacturers and their OEM's on this journey, since we have the technology and complete solutions for these changes at our disposal today. Such innovations have recently earned us a Top 100 Global Innovator Award for the second year in a row.'
More info: