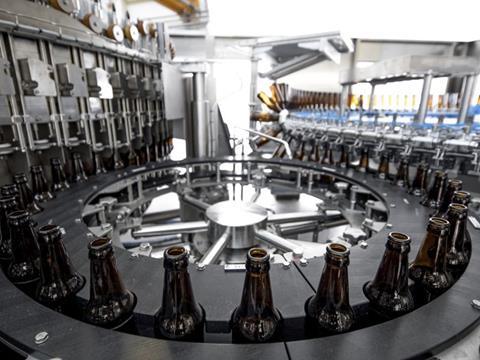 EvoFILL Glass is able to hold the dissolved oxygen pick-up down to 10 ppb and to process a wide range of filling levels with no need for probe adjustments for enhanced uptime and top product quality. With 48 to 192 valves on the filling carousel, manufacturers can handle a broad range of speeds – from 25,000 to over 80,000 bottles per hour for 330 ml beer bottles – and bottle sizes from 200 ml up to 1 L.
"Very fast changeover times for different bottle diameters are made possible due to the re-designed handling parts, which are now lighter and smaller. With 98.5% efficiency and the possibility to manage an extensive spectrum of drink types and filling temperatures, EvoFILL Glass delivers an exceptional level of productivity," Mr. Baini adds.
Crowning performance
The ultra-clean crowner manufactured by Sidel, with its open design and off-set crowning ring, adds further performance to the bottling process. The stainless-steel construction with its dedicated nozzles for the washing of the crimping area underlines the strict focus on optimal hygiene and product safety. The solution offers an upgraded washing system with three areas for maximum safety in case of bottle burst.
Sidel EvoFILL Glass is complemented by the Gebo OptiFEED® crown feeder, delivering quality and compliant crowns in a compact space. This is achieved via its integrated vision device, allowing unsuitable crowns to be spotted and seamlessly ejected, without stopping the flow.
"Whilst developing the OptiFeed solution, sustainability was high on the agenda of our design team, resulting in removing the need for air and thereby eliminating the risk of contamination that can occur during operation. Instead, mechanical discharge moves the crowns, keeping electrical power consumption to under 1kW. This creates a very smooth handling process and again improves hygiene, while reducing the environmental impact," Mr. Baini concludes.
See EvoFILL Glass in action:
Find out more about Sidel's EvoFILL Glass.
This content was sponsored by Sidel.