H.B. Fuller on the importance of cross-value chain collaboration on the road to circular solutions.
What are the major sustainability priorities and drivers for producers and users of adhesives, coatings and sealants for the packaging industry, and how should these be approached in a collaborative manner? Victoria Hattersley spoke with Elizabeth Staab, Global Packaging Sustainability Manager at H.B. Fuller, to get the viewpoint from a global leader in this field.
Adhesives and coatings play a number of important roles, from helping to ensure the recyclability of the package to product security and increasing shelf life. But the regulatory landscape for packaging adhesives – and indeed all aspects of packaging – can be complex for a single company to navigate – even one like H.B. Fuller with a global reach and decades of expertise in the field. Aside from the overarching framework that is the European Green Deal, to name just a few, we have the Circular Economy Action Plan, EU Plastics Strategy, REACH and CLP regulations, Waste Framework Directive and Packaging & Packaging Waste Regulation (PPWR)… it can all feel somewhat, shall we say, labyrinthine.
"One of the issues is that there are so many moving parts," says Elizabeth Staab. "Again, with the Green Deal, you have many different regulations coming together with governments and companies still learning to deal with, and largely in a reactionary way. And this complexity can sometimes give the impression that policymakers are not considering how the different legislations interconnect. Another example, the latest draft of the PPWR indicates requirements for post-consumer recycled (PCR) content to be worked into new products but when you look at food contact legislation, mechanically recycled materials cannot come into direct contact with foodstuffs in flexible packaging. At first, it can seem a little contradictory."

'What's the definition of recyclable?'
Take plastics. Across the packaging industry, the question of plastics – definitions of recyclability and compostability, to what extent they can be replaced by other materials, etc. – is a challenging one. When it comes to adhesives and coatings, this can in part come down to perceptions of what their role is. As Elizabeth Staab states, adhesives are not in themselves recyclable, instead, choosing the right adhesive or coating solution will enable the package to be recyclable in existing streams.
"There are extremely small amounts of adhesives that keep a plastic label on a PET soft drinks bottle. You have adhesives that can be washed off so they are compatible with the recycling process itself, but the adhesive will be in the wastewater or on the label. You are not going to pull that out of the sludge and make something else with it."
And there can also be confusion about what 'recyclable' means in real-world terms. Environmentally conscious consumers may increasingly demand packs that are 100% recyclable, but so far that is difficult to achieve. There are always going to be additional 'components' on a pack – adhesives, printing inks, coatings, or varnishes etc. The goal for the industry is to embrace the journey of continued innovation and investments, and get as close to 100% recyclability as possible – in time, this percentage will creep up as technologies improve.
In order to further reduce material use and recyclability, H.B. Fuller has also collaborated with several industry partners on a range of solutions for multipacks enable brand owners to bundle packs of aluminium cans or PET bottles, eliminating high cones or stretch wrap and allowing for easy separation by the consumer – as demonstrated in the following video:
Fibre-based alternatives to plastics
We know that plastics are often seen, rightly or wrongly, as the 'big bad' of the packaging industry. But the solution cannot be to simply replace all plastics with other materials such as paper, glass or aluminium; let's not forget that plastic, when used correctly, can be a fine material – sterile, strong, cheap to lightweight and increasingly made from more renewable resources. It's also true that, while paper bags can quite feasibly be used for dry goods such as rice or pasta, it's a different story when it comes to more 'aggressive' food ingredients such as sauerkraut or curry sauces. That said, it's certainly true that the range of applications for paper are much wider than they used to be.
"We know that plastics are often seen, rightly or wrongly, as the 'big bad' of the packaging industry. But the solution cannot be to simply replace all plastics with other materials…"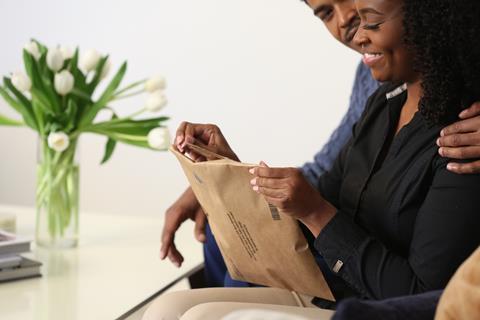 While it believes there is a sustainable future for plastics if the infrastructure can be further adapted to support circularity, H.B. Fuller as a company is also doing much to promote the use of alternative materials. For example, last year they put the spotlight on the Open Sesame® fibre-based tear tape – an e-commerce solution that eliminates the plastic film used for standard tear tapes today and thus can be recycled directly alongside the paperboard package. (We all know that the e-commerce boom has added hugely to the challenge of packaging waste, as the following video highlights.)
Furthermore, in the area of beverages, last year the company collaborated with Greentech company HSMG to combine the latter's patented PROTĒAN CupKOTE coating with H.B. Fuller's Swifttak adhesives to create a recyclable and poly-free water, oil, and grease barrier solution for single-use paper beverage cups in the U.S.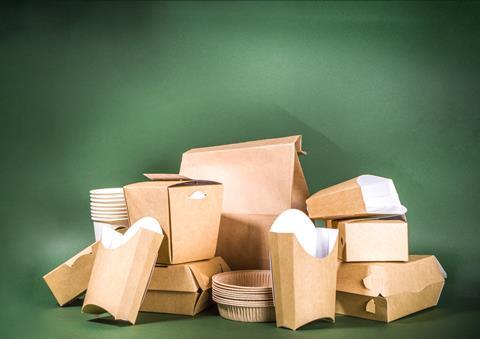 Compostability and reuse
Leaving aside the question of recyclability for a moment: it is also interesting to explore how adhesive and coatings producers can contribute to other elements of a sustainable value chain, such as compostables and reuse models.
Biodegradability, or compostability, clearly has many benefits, but only if the materials are disposed of and dealt with correctly – an issue the industry and legislators are still working on. Many products labelled as 'compostable' are not home-compostable but need to be industrially composted – and if these products end up in the normal recycling stream, they will cause contamination. So where are the limits of composting, and how can it be brought further into the mainstream?
"Compostables definitely need a separate recycling stream," says Elizabeth Staab. "When it comes to paper items, particularly food service items such as take-away containers, we think compostable items could be a good solution especially considering the remaining food in such containers; that severely impacts the quality of recycling materials. However, when it comes to plastics there is more scope to widen the net. I'm personally a big believer in the HolyGrail project [which was also recognized as the overall winner of Packaging Europe's 2019 Sustainability Awards]. This cross-value chain collaboration is focused on using digital watermarking for sorting plastic waste and enabling higher-quality recycling rates for packaging in the EU. And if this can also be applied to sort compostables then it opens the possibility for all plastic waste to be collected together and sorted afterwards, which will greatly simplify the process."
When it comes to reuse, while it's an inherently attractive idea and currently there are many innovative models, in general reusability has not taken off in recent years in the way that many might have hoped. How can adhesives help to support the wider uptake of reuse models?
"There is potential for e-commerce: you could have a cardboard box that is shipped several times with an opening strip and a release liner so the customer can reclose the box. There have even been thoughts of having several resealable strips in one package to allow the box to be used and sent back various times. The issue here, of course, is making it simple enough for any consumer so that they don't use the wrong strip.
"In my opinion, reuse is an infrastructure issue rather than a labelling one. With models like Terracycle's Loop, for instance, yes, you will need the easily removable adhesives in order to re-label the container for each use – and wash-off labels such as those offered by H.B. Fuller could be a solution for this."
But, she says (and this is a big 'but'), "we need to find a way for the collection, cleaning and redelivery systems to move beyond the nascent stage – not to mention changing consumer behaviours. That's how reuse will become more viable."

Beyond fossil-based
If we cast our eyes into the future, Elizabeth believes some of the most significant innovation – at least when it comes to plastic – may be happening at the feedstock level.
"We are looking in all directions for new, biobased raw materials to replace fossils. There are some really great innovations – e.g., using potato peels to create bottles – and these would of course then need the right adhesive technology. I also believe the kinds of feedstocks that are used for bioplastics could be locally sourced in the future so they will vary for each geographic region. We may, for instance, use more potato peel in Europe, more sorghum in Africa, more sugar cane and molasses in Latin America, and so on."
Another big emerging topic is mass balance – a mechanism through which we can begin to phase out fossil-based raw materials and enable a transition towards renewable feedstocks through mixing fossil and renewables in existing processes, keeping track of their quantities, and allocating them to specific products. While this has mainly been thought of in relation to the energy industry, it has great potential for applications across the packaging value chain and can contribute to manufacturers' own sustainability goals.
Elizabeth tells us that H.B. Fuller is currently having two plants in Germany ISCC Plus certified for the mass balance process. Using this approach, it has developed new adhesive grades using ISCC+ certified raw materials.
'We need to jump together'
For one product family in the above-mentioned mass balance project, H.B. Fuller has partnered with Covestro to incorporate isocyanates manufactured with biobased sources. Such partnerships are vital: few of the many promising solutions on the horizon, or the sustainability goals set by the EU and throughout the world, cannot be achieved if "everybody stays in their ivory tower," as Elizabeth Staab says.
"It is always good to have at least two or three companies working together on a specific problem to come up with a solution: a brand owner, a machine supplier and a material supplier, to give an example. Of course, it's a lot of work to get several companies coordinating their efforts but it's necessary. At the end of last year, the EU said and even in a bold way that if industry partners and competitors get together to solve common sustainability challenges then that won't fall under anti-competition law. At H.B. Fuller we fully embrace innovation, co-creation, and design thinking across our business. To say that without collaboration, we're not going to get where we need to."
"We need to jump together or we will not get where we need to be."
Moving forward, major investments – and, yes, a certain amount of risk-taking on new technologies and forward-thinking start-ups even if they do not always work out – are going to be strategic. H.B. Fuller itself works closely with start-ups – whether that is investing in new raw materials at pilot scale phase to help them reach industrial production scale, or through straight acquisition. Just recently, Elizabeth tells us, the group has invested in a company in the U.S. working on bioplastic innovation. (This is something our readers will no doubt hear more about in the coming months as further details are released.)
"There is a tremendous amount of investment to be made with the Green Deal alone, and you have to make that joint leap of faith to say we really want to get there together," Elizabeth concludes. "The industry is facing something of a chicken-and-egg situation: for instance, when it comes to producing bioplastics, producers will say 'I can't make this product because the infrastructure isn't there', while recyclers will say 'there isn't the demand for this service because there isn't the necessary volume on the market'. At H.B. Fuller the industry path is clear – we are ready with our capabilities and need to jump together or we will not get where we want to be."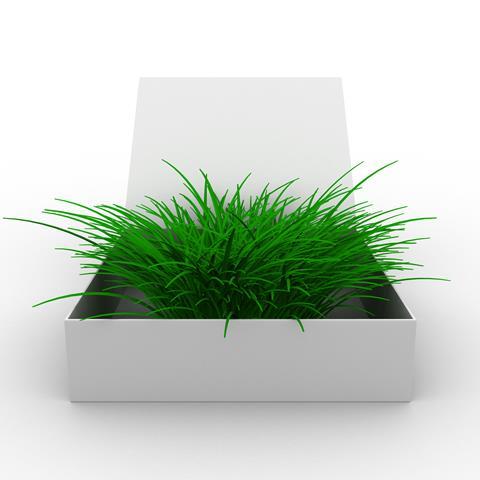 This premium feature brings a completely new way for you to interact with our audience through a combination of collaborative editorial and premium promotion. An article written together between you and Packaging Europe's content team, The Wider View will have a dedicated widget across all web pages & eNewsletter, and will link to a stunning, long-format web page put together by our design team featuring your graphics and branding. Carrying no other advertising, and pushing the limits of ordinary web communications, this is the ultimate digital content package.