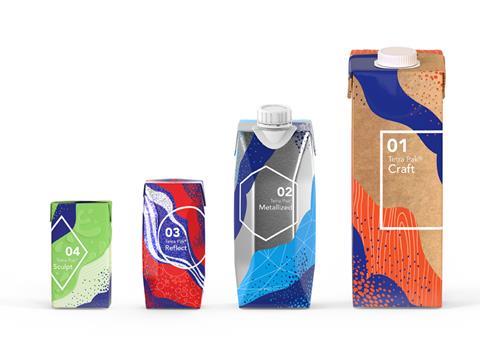 Tetra Pak has launched a suite of new packaging material effects, known as Tetra Pak® Artistry, to help food and beverage producers revitalise the look and feel of their products.
Tetra Pak® Artistry is a 'plug & play' offering, helping brands attract shoppers' attention without the need for the manufacturer to switch to a new packaging format or invest in new equipment.
Each of the different effects on offer is created using different materials and processes.
Tetra Pak® Reflect incorporates holographic effects onto the package. They are created using 'holographic' films, which are applied directly on the packaging materials in converting factories. Tetra Pak® Metallized creates a metallic effect thanks to the use of metallic films. The Tetra Pak Sharp® printing method allows unique metallic and holographic effects on the package.
Tetra Pak® Craft give the package the natural look of bare paperboard with wood fibres. The effect is created using an uncoated, un-bleached paper board, which is then converted. The FlexoLine printing method is used to give the package a natural look of bare paperboard with wood fibres
More offerings are being developed, including Tetra Pak® Sculpt, an embossed surface texture for an innovative consumer experience. The first Tetra Pak® Sculpt pattern, which was customised for our Chinese customer Want Want, has been launched in China with initial positive market feedback.
The whole range of effects will be available for the majority of Tetra Pak® package formats and offered to customers worldwide.
Tetra Pak® are also currently working on multiple patterns for a range of package formats.
Charles Brand, Executive VP, Product Management and Commercial Operations at Tetra Pak said, "In a world where almost everything needs to be 'personalisable', we want to provide customers with something unique to help their brands rise above the noise and reach the shopper. The new suite of effects and expressions will help our customers enhance their brand at no additional investment, making it a cost-effective solution to their needs."
He highlights the fact that consumers are increasingly looking for novelty and fun in their products, as they use consumption as a way to express themselves.
"The Tetra Pak Index 2018 reveals that brands are expected to appeal to consumers on an ever more personal level, with customisation of products and personalisation set to be key differentiators moving forwards. The importance of sensory stimulation and customisation has increased in recent years, and stimulating the senses whether through look, feel, smell or taste is a key way for brands to stand out and succeed.
Tetra Pak® Artistry is helping food and beverage producers respond to these consumer trends and engage with consumers on an increasingly personal level, building relationships and driving customer loyalty."
This content was sponsored by Tetra Pak.