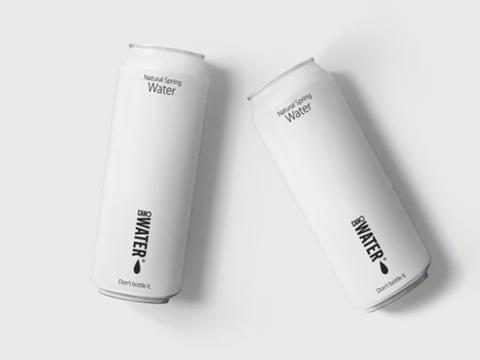 Tesco is the first supermarket in the UK to offer canned water in its portfolio. The brand CanO Water, started two years ago in London, has been stocked in 700 Tesco stores from 30th July.
By using aluminium - championed as 'infinitely recyclable' - the supermarket hopes to reduce its plastic waste and give its customers more eco-friendly options.
"Aluminium cans have the highest recycling rate of any product out there and a recycled can could be back on the shelf as another one in just 60 days", says CanO Water co-founder Ariel Booker. It's hoped the new 500ml cans of spring water will rival industry giants, while their minimal design and cult social media following will attract a younger generation. Elsewhere, two of the UK's biggest food and drink wholesalers, Bidfood (Cadbury, Heinz and Coco-Cola) and Brakes (Tropicana, Innocent and Nescafé), have also chosen CanO Water in response to retailers and their customers avoiding plastics bottles. Several business giants are also scrapping single-use plastic bottles, including the offices of Visa and Sky, along with some of the UK'S biggest events and tourist attractions such as Bestival, London Zoo, Kew Gardens and Selfridges.