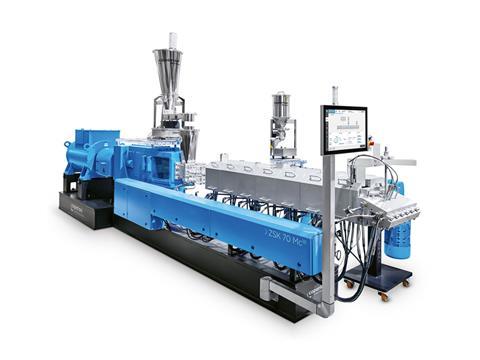 A new process developed by Coperion makes it possible for PET flakes to be processed back into bottles again without first pre-drying them into pellets.
PET recyclate manufactured using this innovative process recently received approval from the United States Food and Drug Administration (FDA) for food-contact uses.
Coperion reports that its system for this bottle-to-bottle recycling process achieves throughput rates between two and eight tons per hour, which it says can help recycling companies profit from high product quality, reduced operating and logistic expenses, and energy cost savings of up to 30% in comparison to conventional PET recycling methods.
Before PET can be reprocessed, it must first be shredded to flakes and then cleaned. Ordinary technologies require pre-drying, crystallization or agglomeration of the PET flakes following washing.
Using the specialized technology from Coperion, the shredded PET can be fed directly into the ZSK twin screw extruder and compounded.
The shredded flakes are fed into the ZSK extruder using SWB (Smart Weigh Belt) feeders or gravimetric feeders from Coperion K-Tron. In addition, other regrind materials, new materials, or mixtures can be added.
Melting, intensive devolatilization, and complete homogenization take place in the ZSK process section before the melt is transferred via a gear pump and filter with an automatic screen pack changer to a strand or underwater pelletizer for pellet production.
Pellets are then condensed in an SSP reactor. According to the company, the pellets' quality meets the requirements of virgin material.
Jochen Schofer, business segment manager for recycling and direct extrusion at Coperion, adds: "With FDA certification, we have officially confirmed the high product quality of the PET recyclates. With the Coperion solution, we make a technology available to recyclers that is economical and at the same time allows them to make a decisive contribution to the plastic industry's path towards a circular economy."