In an exclusive interview with Fin Slater, Dr Michael Grosse, Syntegon's newly minted CEO, talks strategic priorities, sustainability perspectives, and the challenges of rebranding an iconic and established organisation.
---
Until early January, Syntegon had been trading as Bosch Packaging Technology for 50 years. What was the reasoning behind a complete rebrand and what challenges does this pose to an established company like Syntegon?
At the beginning of this year, Syntegon presented itself as an independent company under a new brand. Processing and packaging for a better life - that is our mission. We remain a global partner for the pharmaceutical and food industries and provide our customers with even more intelligent and sustainable solutions.
The main reason for the brand change is that our company is no longer part of the Bosch Group. Our new owner is the private equity and investment advisory firm CVC Capital Partners. With Bosch, of course, we are losing a famous brand with high appeal. However, as Syntegon we will sharpen our profile as a leading processing and packaging company and use the opportunity to optimize our products and services as well as our structures and processes to make them an even better fit for our customers.
Can we expect any significant changes in direction following the rebrand and change of ownership?
With up to 150 years of experience in individual machines, systems, and services, Syntegon sets standards when it comes to developing innovative packaging and processing solutions and delivering tailored manufacturing processes designed to make high-quality products with utmost reliability. Our customers appreciate us for our reliable machines that enable smooth, efficient, and safe production. In the future, we want to further extend these close partnerships with our customers.
We will inspire the food and pharma industry with future-oriented solutions and contribute to the overall economic success of our customers. The newly gained independence enables us to be faster and even more flexible. While we used to be part of a large corporation with different divisions and a fixed organizational structure, Syntegon can now create a business framework that is leaner and an even better fit for the industry with a stronger focus on the key challenges and demands of our customers.
What do you identify as your strategic priorities as a business over the coming year?
"Customers first" is our motto. Driven by the spirit of partnership with our customers, we are striving to improve the value of our solutions as well as our processes. We want to become faster and easier to do business with. This ambition includes, for example, reducing response times to customer enquiries or improving our service delivery. We will build on our deep technical expertise and application knowledge, paired with a comprehensive portfolio of products and services, driven by our relentless aim to become better, faster, and more efficient in everything we do.
Of course, the coronavirus is on everyone's mind and unites us in acting safely and responsibly. We have to lead our company, partners, and families safely through this unprecedented crisis. Since the beginning, Syntegon has been continuously and closely monitoring the developments related to the spread of the virus. We regularly evaluate and adapt our actions in line with our values to never compromise the health and safety of our people.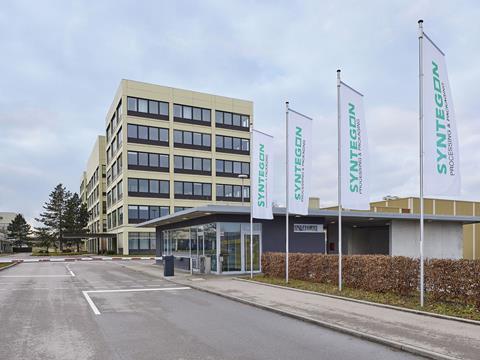 We've previously reported on Syntegon's collaboration with BillerudKorsnäs. What is the importance of partnerships like this to accelerating innovation for the packaging industry, and can we expect more of the same from Syntegon in the coming months?
Of course, we are working closely with leading packaging material suppliers – in both paper and plastic. We believe that solutions can only be developed in close cooperation with material experts as well as users and brand suppliers. Together with our Swedish cooperation partner BillerudKorsnäs, we have developed a new packaging concept called Shaped Paper Pod, which enables creative and sustainable packaging solutions made of paper.
The Shaped Paper Pods are produced with BillerudKorsnäs' FibreForm paper on a newly developed Syntegon paper form machine. Based on organic materials, the FibreForm paper enables up to ten times deeper embossing than conventional paper. This creates eye-catching 3D effects. Sandwich spreads, confectionery, cookies, facial cream – the possibilities are many and diverse. Manufacturers are moving towards plastic-free solutions with predominantly fibre-based packaging materials that are tailored to their given product.
You were previously on the board at Tetra Pak – what learnings from that role will you be bringing to your new role as CEO of Syntegon?
During my almost 17 years at Tetra Pak, I had the privilege to deepen my understanding of the key challenges of the food production industry and how to leverage technology, innovation, and services to address them. Know-how is the entry ticket, but the passion, the focus, and mindset of the people really make the difference.
You've talked about your desire to focus on improving customer satisfaction and profitability – do you have any particular initiatives/strategies in mind to help you do this?
Everything we do according to our mission "processing and packaging for a better life" is about creating value for our customers and will determine their satisfaction with our products and services. That is why we are focusing even more on the value and reliability of our services and want to deepen the spirit of trustworthy and caring partnerships with our customers.
Profitability is a key aspect of a company's future viability. Our financial strength through sustainable profitable growth determines our ability to attract the best talents and to invest in our own and our customers' future. We therefore have to sharpen our focus on what really matters and simplify our operating model.