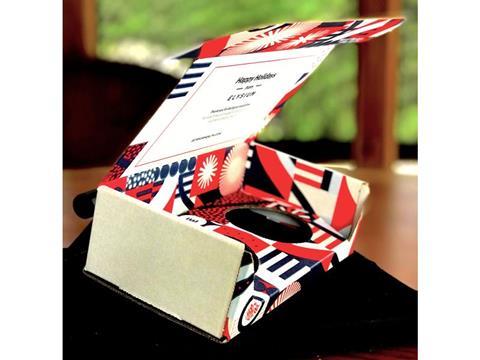 Sutherland Packaging, a producer of corrugated point-of-purchase (POP) displays and packaging for retail locations and club stores, has introduced a programme to make e-commerce shippers more vibrant and brandworthy while keeping down costs.
Its new E-COMplete™ e-commerce printing programme enables customers to cost-effectively create corrugated shippers that are direct extensions of their brands, transforming previously bland containers into valuable customer engagement tools.
Until recently, many brands have relied on e-commerce packaging that was unremarkable in appearance and not adequately representative of their brick-and-mortar brand expressions. However, many are waking up to the importance of their brands permeating the entirety of their sales efforts – including e-commerce. In addition, online-only retailers are discovering the benefits of extending branding far beyond their websites, identifying their packages for what they are: their first actual touchpoint with customers.
Sutherland Packaging's E-COMplete™ program was born from a combination of the company's longstanding versatility and recently incorporated technology. In addition to precision high-speed lithographic printing, the company gained notoriety for its innovative direct printing technique, which circumvents the traditional practice of mounting a lithographic label over corrugated substrates. Ideal for the retail consumer products sector and club store displays, this maximal impact, cost-effective full-colour technology enables customers to save on both material expenditures and shipping times. The company also features high-speed digital production with exacting colour matching.
Sutherland's ability to provide ultra-customized hybrid solutions – for example, combining direct-to-corrugated with litho printing or conventional printing methods with digital – opens up a world of possibilities to e-commerce customers looking to spruce up their corrugated shippers. In addition, its recently purchased large format graphic printer – offering the sort of double-sided, one-pass capabilities ideal for corrugated packaging – gives the company a technological leg up in the burgeoning e-commerce sector.
To date, Sutherland's enhanced e-commerce shippers have proven particularly popular with retailers sending boxes of food, health & beauty aids, and clothing to consumers on a regularly scheduled basis. In most cases, the solutions comprise a more attractive outsides and impactful, truly brand representative interiors.
"By cost-effectively beautifying previously plain boxes, Sutherland Packaging's E-COMplete is an effective customer retention tool in the fast-growing online retail sector, " said Tom Sutherland, President of Sutherland Packaging. "For too long, e-commerce shippers have been overlooked as the valuable branding tools and customer touchpoints they offer to retailers. Our new program provides sorely-needed improvements to corrugated shippers."