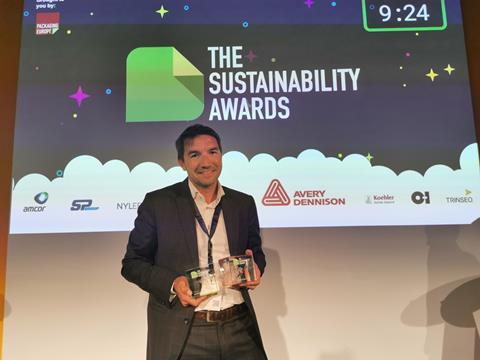 Recyclable Packaging
Italy's Offmar received this award for its Wave Bag. The successful outcome of two years of in-depth research, Wave Bag is a 100 per cent paper envelope that guarantees protection, total paper recyclability and significant savings in terms of logistic and storage space. With paper as the unique manufacturing material, the envelop gains a new appeal. It becomes lighter and easier to use, simple to recycle, helping to address the main demands of expedited shipping.
Wave Bag is based on an innovative technology that creates a protective lining made of corrugated paper. The internal layer, entirely made of paper waves, guarantee envelopes strength and rigidity, avoiding protection loss that occurs with traditional envelopes.
The Wave Bag production process is engineered to embrace all aspects of the circular economy. Coming from recyclable paper plant, the raw materials are processed mechanically to maintain the paper's purity and facilitate its reuse and disposal. The manufacturing process, developed to optimise every step, reduce waste material craft of almost 30 per cent while shipment and storage space has been cut to half. Thanks to its certified system, the envelope massively cuts the environmental impact, bringing significant savings in time, resources and costs.
The other 'Recyclable Packaging' finalists were Reckitt Benckiser's full recyclable Finish Eco Pouch; Jindal Films, Unilever and Mondi's collaboration on an all-PP mono-material pouch for dry foods; and the X-CYCLE PE recyclable barrier and metal-free packaging from A.Halzopoulos.
Introducing the Readers' Award
And last but not least, this year saw the launch of our first-ever Readers' Award. We invited our readers to nominate a sustainable packaging innovation that especially impressed them in the last 12 months, and their nominations have highlighted some fantastic solutions that could really make a difference.
The winning innovation, Nestlé's YES! snack bars, were recently launched in a new recyclable paper wrapper. According to the company, this is the first time a confectionery bar has been packaged in paper using a high-speed flow wrap technology, and has now unlocked the potential for recyclable paper packaging to be widely used in the confectionery industry. Up until now, high-speed production of shelf-stable snacks was only achieved using plastic films and laminates.
There were two other finalists for the Readers' Award. The first was a joint effort between Mondi, Werner & Mertz, EPEA Switzerland (Cradle to Cradle®), Der Grüne Punkt – Duales System Deutschland and Institut cyclos-HTP - a 100 per cent recyclable and has detachable decorative panels. The second was the Replenish refill pods for bottles, which aims to tackle the problem of disposable packaging and reduce the amount of waste generated by disposable bottles.