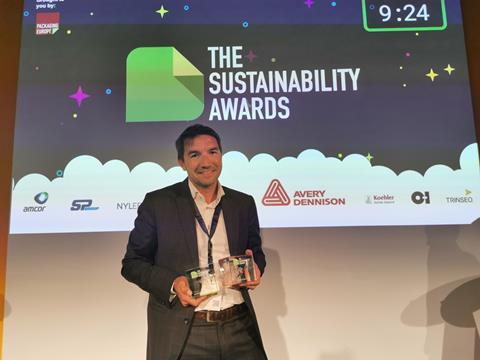 The winners of the 2019 Sustainability Awards have been announced at FachPack in Nuremberg. Founded by Packaging Europe, the awards encourage serious consideration of the requirements of complex environmental challenges, stimulating cross-fertilisation of ideas and promoting the best sustainable innovation.
The overall winner was the HolyGrail project, which also received the 'Driving the Circular Economy' category. Other big winners included Melodea, Sulzer, BOBST, Henkel BeautyCare and Offmar. Finally, the deserving recipient of our first-ever 'Readers' Award' was Nestlé.
The ceremony took place earlier today at FachPack's PackBox forum, with support from sponsors Mondi, Avery Dennison, Amcor, O-I, SP Group, Koehler, Trinseo and DOMO Film Solutions.
The winners
The overall 'Best Sustainable Packaging Innovation' award, as well as 'Driving the Circular Economy', went to HolyGrail for its pioneering project investigating how tagging of packaging can have a drastic impact on more accurate sorting and high-quality recycling. It involved three years of innovation in the improvement of post-consumer recycling using chemical tracers and digital watermarks, with the aim of moving closer to a circular economy.
In the 'Bio-based' category, Israel's Melodea triumphed with its barrier solutions based on Cellulose NanoCrystals. The company's coating formulations serve as a sustainable alternative to aluminium and fossil oil-based materials. They are non-toxic, green, biodegradable, compostable and recyclable.
The winner in the 'Resource Efficiency' category was Switzerland's Sulzer, with its Mixpac ecopaCC cartridge for adhesive applications. The collapsible cartridge uses high-tech multilayer foils suitable for various chemicals. Once empty, the collapsed, wrinkled foil can be removed and disposed of.
Italy's BOBST came out on top in the 'Machinery' category, with its new DigiColor inking system that uses an IoD inking unit to save liquid and substrates by greatly reducing and in some cases eliminating press stops for job changes.
Moving on to the 'Best Practice' category, this year the honours went to Germany's Henkel BeautyCare for its Social Plastic Ecosystem – a partnership with the Plastic Bank social enterprise, aiming to stop ocean plastic and simultaneously provide opportunities for people in poverty.
In the 'Recyclable Packaging' category, Italy-based Offmar won for its Wave Bag - a paper envelope that guarantees full items' protection, total paper recyclability and logistics savings.
Finally, our first-ever 'Readers' Award' went to Nestlé for its YES! snack bars, which were recently launched in a new recyclable paper wrapper for what the company says is the first time a confectionery bar has been packaged in paper using a high-speed flow wrap technology.
This year's edition of the most prestigious sustainable packaging innovation competition attracted 193 submissions – more than ever before. Let's look in more detail at the winning innovations.
Resource Efficiency
This category awards packaging innovations that do more with less. This year's winner, Sulzer, has developed a next-generation primary package for adhesive applications: the ecopaCC™ cartridge. The cartridge uses high-tech multilayer foils suitable for various chemicals. The challenge in developing a greener solution in the adhesives and sealants market comes from the fact that containers cannot be eliminated completely.
The most revolutionary feature of ecopaCC is its collapsible structure. The two conventional, rigid, side-by-side tubes of two-component cartridges have been replaced with flexible films. These film tubes are inserted into a reusable, rigid support sleeve. Integrated pistons in the support sleeve ensure compatibility with existing two-component dispensers. The rigid support ensures that the system can withstand the extrusion forces. During use, the cartridges compress as the content is dispensed. Once empty, the collapsed, wrinkled foil can be removed and disposed of.
Other finalists in this category included Plafco Fibertech, with its biodegradable and marine degradable fibre composite, CYPET Technologies, with its PET drums using the CYPET Process, and Procter & Gamble, with its Tide Eco-Box.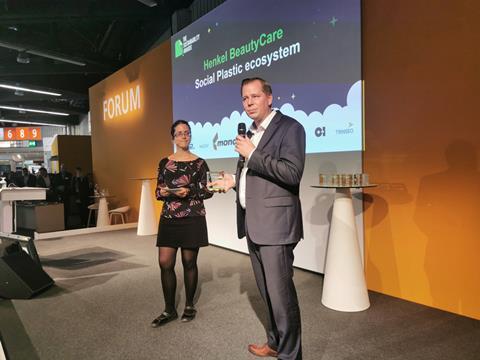 Best Practice
The worthy winner in this category is Henkel BeautyCare's Social Plastic Ecosystem, the result of a long-term partnership with the social enterprise Plastic Bank which aims to stop ocean plastic and provide opportunities for people in extreme poverty at the same time.
The company's Social Plastic Lighthouse Editions of 'Meeresliebe' shower gel and 'Meeresglück' Shampoo have been fully produced from recycled plastic, of which 50% is so called 'social plastic' that comes from the collaboration with the Plastic Bank.
'Social plastic' is collected on beaches, waterways and land in geographical regions of the highest poverty, where no recycling infrastructure exists. By collecting plastic waste from the environment, registered collectors are generating reliable and fully transparent incentives, that can be exchanged for everyday items to make a living.
All of that that is backed up by IBM blockchain technology to enable full traceability along the collection chain. As Henkel is trying to keep as much value as possible in the collection country, the material is additionally sorted, flaked and washed in the specific region, followed by further processes and conversion steps to finally bring it back into premium primary packaging applications that really make a difference and generating direct impact when purchasing it.
The other finalists in this category were TerraCycle's Loop circular shopping platform, Ardagh Group's comprehensive sustainability strategy and the CEFLEX initiative, which aims to build a circular economy for flexible packaging.
Driving the Circular Economy
This category honoured initiatives that help to promote the ultimate goal of a circular economy in packaging. As a full value-chain pre-competitive collaboration project involving 29 partners, the winning HolyGrail project was established to discover how the tagging of packaging can impact the accuracy of sorting and recycling systems.
The key precepts behind the project are that, once packaging is designed for circularity, the collection challenge (which includes putting right collection system in place and consumer participation) are solved, high quality sorting is a crucial step to dramatically improving current recycling rates and ensuring better recyclate enters the packaging stream.
One of the investigated technologies, digital watermarks, also has potential to bring disruption into other fields, such as consumer engagement and retail, through the creation of 'smart/intelligent' packaging. Major retailers in the US (Wegmans, Walmart) and in Europe are already adopting the technology in their packaging (see here).
Basic proof-of-concept for digital watermarks (through project participants Digimarc and Filigrade ) has been established by the project. This will open up new possibilities currently not feasible with existing sorting technologies.
Other finalists in this category included DuPont Teijin Films with its LuxCR™ process, Cadel Deinking with its delamination and deinking of plastic surfaces, Detecta from Quinn Packaging and Recycle Pro from Nigeria.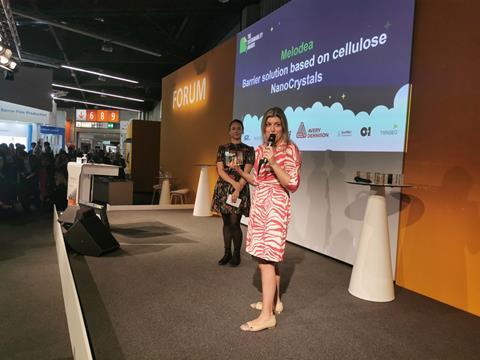 Bio-based Packaging
This category's winner, Melodea, is pioneering the development of innovative, cellulose nano crystal-based coating formulations for barrier applications in advanced packaging. Its coating formulations serve as a sustainable alternative to aluminium and fossil oil-based materials. They are non-toxic, green, biodegradable, compostable and recyclable. The innovation behind this solution lies in the unique formulation of the cellulose nano crystals, making them compatible with a large variety of materials, while also serving as a multi-functional layer: the coatings act as a barrier as well as enhancing mechanical properties.
The cellulose nano crystals production process utilises wood pulp as well as waste streams from the paper industry as raw materials. The company also took steps to minimise the waste of the sulfuric acid it uses during this process, developing a proprietary Sulfuric Acid Recovery Procedure (SARP™) which enables the recovery of the sulfuric acid used in the sustainable and economical production of cellulose nano crystals. Melodea says its process is unique in its ability to recycle up to 95 per cent of the chemicals, minimising the environmental production impact.
Other finalists included Taracell with its tara-cool TC20 tempered transport box, Pyroll Group with its FlowPap® Evo paper packaging, and popular packaging with its Globe Soap solution.
Machinery
The winner in this category, DigiColor from BOBST, uses an IoD inking unit to save liquid and substrates by greatly reducing and in some cases eliminating press stops for job changes. DigiColor optimises the Extended Color Gamut process by adding the flexibility of being able to adjust the colour Delta E in a closed loop with minimum waste and fully digital control. DigiColor closed loop colour matching allows total control of quality variables, in combination with automatic register and pressure control, and automatic on-the-fly print cylinder change without stopping the press.
BOBST says that with DigiColor there is no substrate nor ink waste: ink mixing, testing and washing is avoided as this system was conceived not to be washed. There should be no job rejection, as when the customer receives the printed reel, it will be the correct one thanks to colour measurement and inspection camera checking and testing during printing.
A closed loop system was also used during the test phase, reducing the impact on the environment as less printing substrate was used. Furthermore, using the actual system, several parts of the machine were cleaned before printing the new trial, further decreasing the quantity of wasted and disposable ink and improving press up-time and productivity.
Other finalists in the 'Machinery' category included Valco Melton's EcoStitch all-electric hot melt gluing solution, The Loop Factory's Nowa Packaging and SN Maschinenbau's new combined technology to run fully recyclable packaging without speed limitations.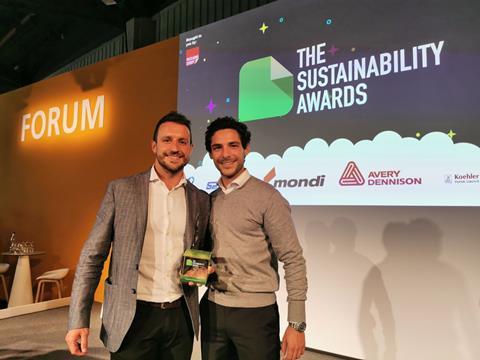 Recyclable Packaging
Italy's Offmar received this award for its Wave Bag. The successful outcome of two years of in-depth research, Wave Bag is a 100 per cent paper envelope that guarantees protection, total paper recyclability and significant savings in terms of logistic and storage space. With paper as the unique manufacturing material, the envelop gains a new appeal. It becomes lighter and easier to use, simple to recycle, helping to address the main demands of expedited shipping.
Wave Bag is based on an innovative technology that creates a protective lining made of corrugated paper. The internal layer, entirely made of paper waves, guarantee envelopes strength and rigidity, avoiding protection loss that occurs with traditional envelopes.
The Wave Bag production process is engineered to embrace all aspects of the circular economy. Coming from recyclable paper plant, the raw materials are processed mechanically to maintain the paper's purity and facilitate its reuse and disposal. The manufacturing process, developed to optimise every step, reduce waste material craft of almost 30 per cent while shipment and storage space has been cut to half. Thanks to its certified system, the envelope massively cuts the environmental impact, bringing significant savings in time, resources and costs.
The other 'Recyclable Packaging' finalists were Reckitt Benckiser's full recyclable Finish Eco Pouch; Jindal Films, Unilever and Mondi's collaboration on an all-PP mono-material pouch for dry foods; and the X-CYCLE PE recyclable barrier and metal-free packaging from A.Halzopoulos.
Introducing the Readers' Award
And last but not least, this year saw the launch of our first-ever Readers' Award. We invited our readers to nominate a sustainable packaging innovation that especially impressed them in the last 12 months, and their nominations have highlighted some fantastic solutions that could really make a difference.
The winning innovation, Nestlé's YES! snack bars, were recently launched in a new recyclable paper wrapper. According to the company, this is the first time a confectionery bar has been packaged in paper using a high-speed flow wrap technology, and has now unlocked the potential for recyclable paper packaging to be widely used in the confectionery industry. Up until now, high-speed production of shelf-stable snacks was only achieved using plastic films and laminates.
There were two other finalists for the Readers' Award. The first was a joint effort between Mondi, Werner & Mertz, EPEA Switzerland (Cradle to Cradle®), Der Grüne Punkt – Duales System Deutschland and Institut cyclos-HTP - a 100 per cent recyclable and has detachable decorative panels. The second was the Replenish refill pods for bottles, which aims to tackle the problem of disposable packaging and reduce the amount of waste generated by disposable bottles.