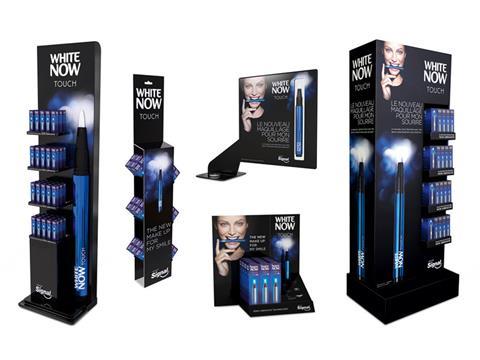 White Now Touch is the latest addition to the Signal family. This revolutionary pen contains special particles that instantly whiten teeth for a few hours, creating the foundation for a perfect smile.
STI Group, which developed the range of POS for the product launch, also has reason to smile. In March the 91-strong jury of the POPAI Paris Awards revealed that from 277 entries, this premium permanent unit was judged one of the most successful display solutions of the past year. It will be announced whether the display has won a Gold, Silver or Bronze at the awards ceremony in mid-June.
Premium launch displays
Featuring a giant 3D factise of the whitening pen, the display creates a stunning showcase in the cosmetics sections of retail stores. The sparkling white pen tip clearly communicates the temporary whitening effect, while the 'no abrasion' message on shelf explains how the product works. Elegant graphics blend classic black and dark blue to reflect the product, designed for maximum appeal to the target group: beauty shoppers looking for that finishing touch to perfect their look.
Prime placement
To reach target shoppers most effectively Signal not only positioned secondary displays in cosmetics sections, it also placed eye-catching POS in dental care aisles. 'Securing placement for White Now Touch in the toothpaste section alongside our tried-and-tested Signal toothpaste was a deliberate strategy to boost the brand and unlock cross-selling potential,' explains Sandra de Lassus, Brand Manager Signal France. Glorifiers to highlight the product and parasite units that can be fixed to shelves both create additional touchpoints in dental sections.
Targeted toolkits
White Now Touch was launched first in France in December 2016 and will be launched in other European countries in 2017. STI Group's POS toolkit provides everything needed for a successful product launch; the range of display solutions includes glorifiers and shelf frames, counter units and floor-standing displays, all the way through to permanent and island displays. Diverse country-specific and retailer-specific requirements as well as local differences in shopper behaviour were all factored into these toolkits.
International recognition
STI Group's premium permanent display not only impressed the POPAI Paris Awards jury, it also wowed the judges of the POPAI D-A-CH Awards. These nominations help STI Group continue its winning form; recent years have seen the company bag a total of more than 100 POPAI awards across France, Germany, UK, Poland, Czech Republic and Hungary.
More info:www.sti-group.com