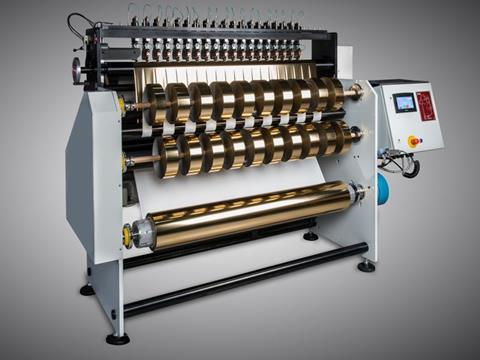 Starfoil is a producer of hot-stamping and die-cutting presses, label printing and vertical hot-stamping machines from A3 size to 750x1060mm.
As agent for Newfoil Machines, Starfoil will demonstrate a high-speed hot foil stamping Newfoil 2500 Servo machine for labels that features a complete revision of the electronic, control and mechanical systems.
Integrated servo drives are now used to power all the dynamic functions of the machine, this can increase productivity by 100% or more, with reduced operator input, quicker set-up, reduced waste, lower noice levels, data logging and much more.
As a specialist in the hot-stamping machine industry, Starfoil also produces high-quality spooling and slitting machines, suitable for hot stamping foil and various flexible packaging films. Widths of the machines varies from 400mm to 2100mm and fall into a ProLine and ValueLine range to meet everbody's requirements and budget.
Starfoil will also demonstrate their popular model ValueLine 1300S spooling slitting machine, suitable for spooling and slitting jumbo rolls on 3" and 6" cores to master rolls on 1" and 3" cores by means of shear slitting or razor slitting. The machine has a max. speed of 200 meters per minute, max. unwind roll diameter is 700 mm and max. rewind roll diameter is 300 mm. The min. unwinding width is 250 mm and the min. slitting width 9 mm. They also demonstrate a new cantilevered CLC-500 slitting machine. This small foot print machine is designed to slit 3" hot-stamping (rest) rolls to 1" or 3" rolls by means of shear slitting or razor slitting.
More info: