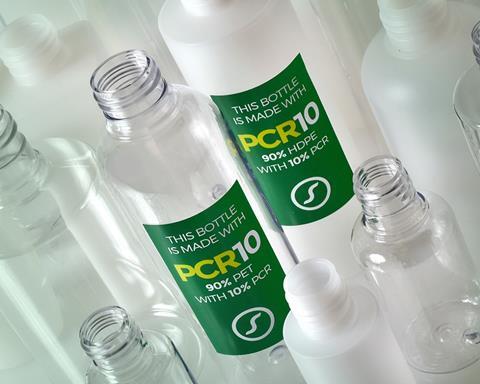 Spectra has announced a commitment to including 10 per cent recycled content to all future plastic bottles made at its manufacturing plant in East Anglia.
In a bold move to encourage customers to use more environmentally friendly alternatives, Spectra has launched PCR10 - an environmental opt-out initiative which customers can decline if requested.
Coming into full effect by the end of this year and provided at no extra cost to either new or existing customers, the new scheme will see Spectra add a minimum of 10% PCR (Post-Consumer Recycled) material to all future HDPE & PET products. Furthermore, higher levels of PCR up to 100% are available if desired.
Jonathan Powell, Sales Director at Spectra Packaging said, "We have decided to take the lead as a responsible plastics manufacturer. When looking at sustainability options for plastic packaging, manufacturers typically leave it in the hands of the brand owners and retailers. At Spectra we have decided to take the lead, shifting the responsibility in a scheme designed to see as many of our customers as possible using more environmental materials. Moving forward our customers will need to actively opt out if they do not wish to have post-consumer recycled plastics used in the manufacture of their packaging."
Whenever possible Spectra's PCR is sourced in the UK, with the UK converter working closely with its suppliers. As such, Spectra can track the recycled materials back allowing traceability and because they predominantly use domestic suppliers carbon footprint is greatly reduced.
More info: