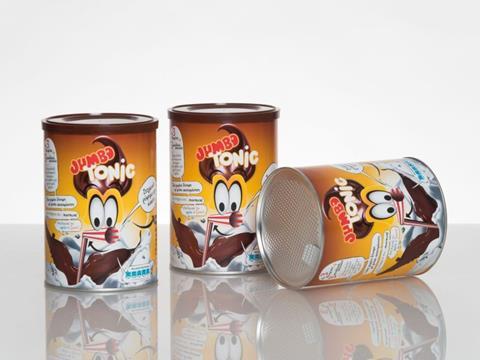 Colourful and convenient packaging for kids' products catches the consumer's eye on the shelf, and adds an element of fun to everyday use.
Launched in Jumbo Toy stores just before Christmas 2016, Jumbotonic Kid Instant Choco is a chocolate drink powder that combines the high quality of other Gialousis products with playful and attractive packaging that might appeal to children and parents. For the collaboration for the Greek market, Gialousis, a major manufacturer of powdered beverage products, and Jumbo S.A., a leading Hellenic toy retailer, chose rigid paperboard containers from Sonoco Europe.
The composite can for Jumbotonic fits right in with the wide range of toys and family products sold at Jumbo stores. Its label features a playful cartoon face splashing in a pool of milk and chocolate. A red and white retro-style straw invites consumers of all ages to make themselves a hot or cold cup of chocolate milk. "Instead of being solely product packaging, Gialousis' rigid paper containers become a colourful addition to living environments such as kitchens or kids' play corners," explains Sean Cairns, vice president and general manager, Sonoco Europe. "Due to their playful appearance and sturdiness, they're often reused as toy containers once the product has been consumed – keeping the brand in the consumer's home, and on their mind."
Gialousis used Sonoco's multilayer Sealed Safe® can with a diameter of 99 mm and a height of 140 mm. With an aluminium inner liner, a metal end, and a Sealed Safe membrane, it protects its contents from potentially harmful factors like humidity. After the initial opening, the snap lid can be snugly reclosed, preserving the powder's aroma and consistency. While the lid's brown colour hints at the content, it also offers optimal product safety for the powder mix, which is usually consumed in the course of several weeks.
A successful launch, just in time for Christmas
As Gialousis had previously benefited from the advantages of Sonoco's composite cans for other chocolate powder products, the packaging company was also their first choice for their collaborative product with Jumbo. With the Christmas sales season in mind, the three companies Gialousis, Jumbo, and Sonoco began working on the customised container with a playful design. Gialousis and Jumbo approved the final designs in November 2016 and the composite cans were on the shelves in 52 Jumbo stores one week before Christmas – an impressive time-to-market for a launch of that size.
In its toy stores, Jumbo sells the chocolate powder at the counter with the help of special displays designed to catch customers' attention. After the successful launch in Greece, the toy retailer plans to bring Jumbotonic Kid Instant Choco to stores in Bulgaria, Romania and Cyprus as well.
A proven partnership
As one of Sonoco's first customers in Greece, Gialousis had already seen the advantages of rigid paper containers. Founded in 2007, Gialousis began working with Sonoco in 2011. Until a rebranding in 2015, the Greek company specialised in powdered beverage products for the food service industry. Restaurants and hotels all over Southern Europe use Gialousis products, which the company typically sells in 1-kilogram pouches and large-diameter composite cans.
In 2015, Gialousis decided to venture into the retail market with a range of high-quality chocolate mixes containing spices, fruits, and nuts. Once again the company turned to Sonoco, and together they developed premium packaging that conveys the quality of its contents through a minimalistic design with stylized images of fruits and nuts. Throughout all their projects, Gialousis has relied on composite cans' hallmark features, such as reclosability and a high degree of product protection.
More info: