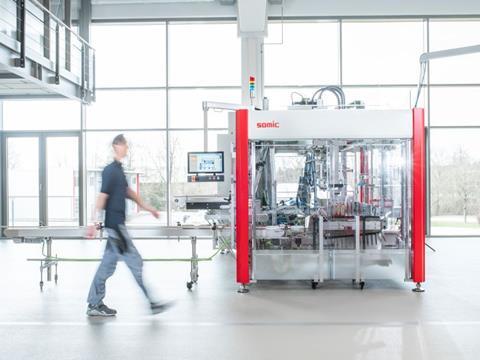 At Fachpack 2021 in Nuremberg, SOMIC will showcase its machinery concept which the company says combines energy efficiency and user friendliness.
Every machine - from the simple ReadyPack and the compact versions of the SOMIC 424 to the high-performance SSL 800 machine - rely on an efficient electronic control system for the package acceleration and deceleration functions. This ensures extremely low energy consumption. SOMIC machines are also designed to optimize user-friendliness: The large variety of articles and formats that are commonly specified, can be handled easily with tool-less quick-change connections for change parts on the machine. This ensures an optimum working environment for the operator during machine production runs and changeovers.
SOMIC also commits to regional supply chains, and is able to guarantee investment security and long-term productive use in the everchanging packaged goods industry.
SOMIC at FACHPACK: Hall 1, Stand 243