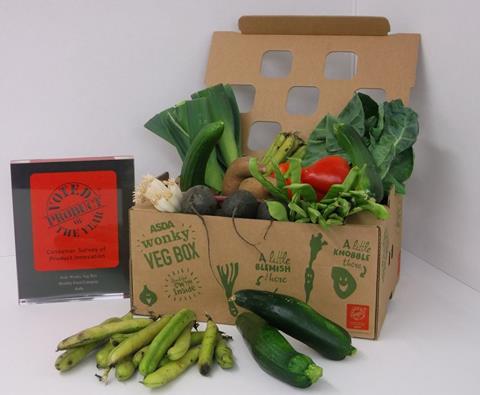 Each year, millions of tonnes of food is being discarded due to strict guidelines from supermarkets relating to the aesthetics of the vegetables they buy from their producers.
In an effort to tackle this issue of food waste within the supply chain, ASDA challenged IPL, Watts Farms and Smurfit Kappa March, to develop the 'Wonky Veg Box.' The initiative sees vegetables that would not normally make it to the supermarket shelves due to their shape or size, being sold together at just £3.50 per box.
'Product of the Year' operates in over 40 countries, and is the world's largest consumer-voted award body which recognises innovation and quality of products within the marketplace.
Kevin Beattie, Sales Director at Smurfit Kappa March commented, "To have recognition for a collaborative project such as this one, which tackles real issues in the industry and challenges consumer perceptions, is a fantastic achievement. Farmers are able to sell more of their crop and consumers are getting excellent value for money – both of which are underpinned by a more sustainable approach to food consumption."
Through the utilisation of Smurift Kappa's bespoke pack optimisation software and expertise of its design team, the fully-recyclable pack design addresses two key requirements – substantial stacking strength, and reduced packing time, whilst keeping material usage to a minimum.
With the UN predicting that by 2050 the population will have increased by 2 billion, projects such as these ones will prove even more vital as we make our way towards a sustainable future.
More info: