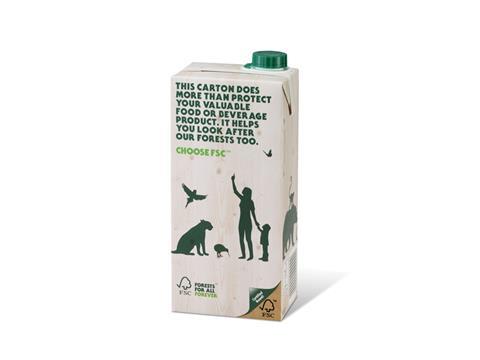 In what it says is an industry first, from January 2021, 100% of the paperboard SIG uses in its packs will be certified by the Forest Stewardship Council (FSC) as responsibly sourced.
"This announcement marks another major milestone in our journey Way Beyond Good," said Samuel Sigrist, chief financial & commercial officer at SIG.
"Over the last decade, SIG has consistently led the industry on FSC certification. We now aim to go even further in supporting sustainable forests – and the climate benefits they bring – as we partner to create a net-positive food supply system that puts more into society and the environment than it takes out."
According to the company, back in 2009, it became the first in the industry to achieve FSC Chain of Custody certification at all its own operations ensuring full traceability in its sourcing. Soon after, SIG went on to introduce the FSC label in high volumes on dairy and non-carbonated soft drink carton packs for the first time.
The supply of SIG's paper board with the FSC claim has remained high – over 80% – for several years and it has now reached 100% through continued close collaboration with suppliers.
"Forests play a critical role in supporting the world's ecosystems and regulating the climate," said Kim Carstensen, director general at the Forest Stewardship Council. "By sourcing 100% FSC-certified board, SIG is helping to protect our forests – and the planet – for future generations and setting a strong example for others to follow."
SIG views this latest announcement as a major step towards achieving its "Way Beyond Good" ambitions, as well as its goal of sourcing 100% of its main raw materials from certified sources.
Recently, SIG has pioneered certification to the Aluminium Stewardship Initiative standards in its operations, supply chain, and cartons. ASI-certified aluminium foil now comes as standard for all SIG cartons in Europe and North America.