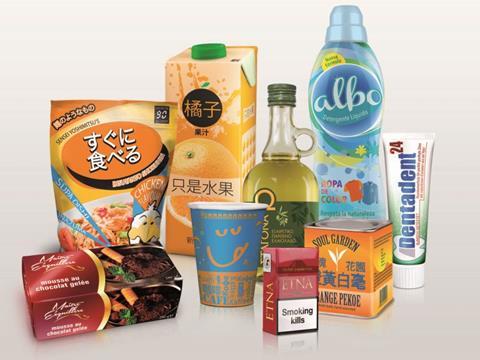 Siegwerk, one of the leading providers of printing inks for packaging applications and labels, is also offering its packaging expertise and creativity skills to brand owners and converters who are looking for outstanding packaging designs improving their impact at the point of sale (PoS).
With this service Siegwerk aims to further shape the future of packaging. It can be considered as the company's innovation factory to identify optimal packaging solutions. It's all about combining individual design ideas and functional demands of brand owners with the technical requirements of packaging converters and the necessary compliance with existing regulations for packaging inks. Siegwerk offers brand owners brainstorming, feasibility and technical setup studies with the goal to pave the way for the final realization of any jointly developed packaging idea.
"Our Brand Owner Business offers brand owners the possibility to directly discuss packaging trends, regulatory efforts and new ink developments with one of the leading ink manufacturers. Based on exchanges about design ideas, material requests as well as functional and technical needs we are able to trigger joint R&D projects to bring innovative packaging ink solutions to life," describes Sebastian Specht, Vice President of Business Units Tobacco, Sheetfed and Brand Owner Business at Siegwerk, the goal of his department. Siegwerk strongly believes in a network approach covering an open and direct exchange between all three parties: brand owners, converters and ink manufacturer. This three-way communication enables active discussions and helps to get the most out of all packaging applications.
"We always appreciate the openness and trust of all of our customers. Our job is to fulfill the individual needs and to support our customers' success with innovative ink solutions to finally strengthen the differentiation of their packaging at the PoS," says Dr. Thomas Boucoiran, Global Head of Brand Owner Business at Siegwerk. Attractiveness of packaging determines the product success at the PoS Increasing competition for consumer awareness at the PoS leads brand owners to develop extraordinary and attractive packaging and label designs.
Packaging is much more than just providing information, it is key for food protection, convenience and functionality. Packaging creates brand awareness by its 'look and feel' and therefore plays a significant role in attracting consumers.
"New packaging requirements of brand owners and converters also have an impact on inks and varnishes. New substrates and design effects as well as novel ways of packaging drive the need for innovative ink solutions. That's why an early and open exchange with brand owners and converters is a win-win situation to all three parties. When we as ink manufacturer concretely understand what brand owners need, we can either better support our customers with state-of-the-art ink solutions or drive our R&D efforts towards a specific direction to make the packaging idea feasible and ensure high quality solutions on a global level," adds Dr. Boucoiran.
Siegwerk is a global expert for safe packaging inks In the packaging market, there is a steady increase in regulatory efforts worldwide that is driven by stringent regulations like for example the Swiss ordinance. Also large global brand owners have introduced own policies based on current regulatory requirements. Product safety is the most important and challenging aspect in packaging.
More info: