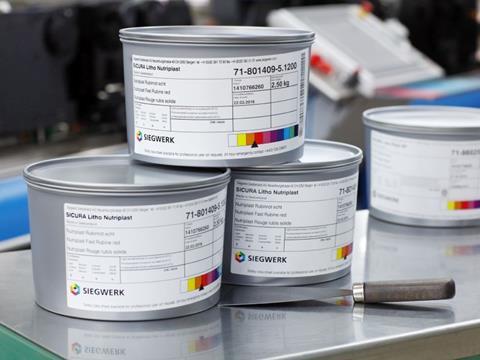 Siegwerk exhibits at this year's UV DAYS, the world's largest in-house trade fair for UV and LED technology presented by IST METZ GmbH from May 15-18 in Nuertingen, Germany.
Siegwerk, one of the leading providers of printing inks for packaging applications and labels, will present its broad ink portfolio for UV printing at 'UV DAYS 2017', IST METZ's in-house trade fair hosted at the company's headquarter in Nuertingen near Stuttgart, Germany. From May 15-18, 2017, UV experts and interested people from around the world come together for the eighth time to exchange about trends and latest developments in UV technology. This year's focal point will be on food packaging printing.
"IST METZ is the world's leading provider of UV systems and one of our valued partners for a long time. With its biannual event 'UV DAYS' the company offers a fantastic platform for international exchange on the topic of UV technology," says Marc Larvor, Head of Technical Marketing Sheetfed and Narrow Web, at Siegwerk. "As a market leader for UV inks and varnishes for packaging and label applications, our experts will be happy to present our newest developments and state of the art ink solutions, with a special focus on food packaging applications and on LED curing applications."
At the 'UV DAYS 2017' , in the field of low migration UV systems, Siegwerk will not only present bestsellers like for example its UV flexo printing series SICURA Nutriflex 10 for label applications but also its newest low migration solutions for UV offset printing: SICURA Nutriplast 2, an ink series with a high adhesion level and versatility of a wide range of plastic substrates, and SICURA Nutriboard 2, an ink series offering outstanding printability for a variety of paper and board applications.
Regarding LED curing applications, since 2009, when Siegwerk was the first to demonstrate the use of inks, which had been matched to the specific radiation spectrum of LED UV light, the company is one of the pioneers for innovative ink solutions specifically designed for LED UV printing. With SICURA Nutriflex LEDTec, Siegwerk has for example launched the market's first low migration LED UV flexo inks for food and pharmaceutical packaging and label applications in 2016. Next to this market innovation the company will also showcase its SICURA Litho LED ink series as a suitable solution for high speed sheetfed LED UV offset printing for commercial applications as well as its SICURA Screen LEDTec opaque white for labels applications at the upcoming UV DAYS 2017.
"UV printing is still a growing market driven by the technology's convincing benefits of fast curing speed, surface flexibility, high print quality, durability and no emission of volatile organic compounds (VOC)," explains Marc Larvor. "As one of the technological advances of the recent years, LED UV curing will also influence the future development in the printing industry. Its potential for eco-efficiency, cost-effectiveness and productivity advantages convinces more and more printers." Due to the fact that UV inks dry in a matter of seconds, the printed material can be immediately processed when coming out of the press, which saves printers money and time. UV printing can be used with almost any surface, absorbent or not, and therefore offers printers and brand owners a vast selection of inflexible and flexible print substrates.
A further expansion of applications will enable printers to use UV and LED UV inks for their full range of print jobs," adds Marc Larvor.
Siegwerk will also present many of its biggest standards in the field of non-food packaging and labels like for example SICURA Flex 39-8 for UV flexo printing as well as SICURA Plast SP for UV offset printing.
More info: