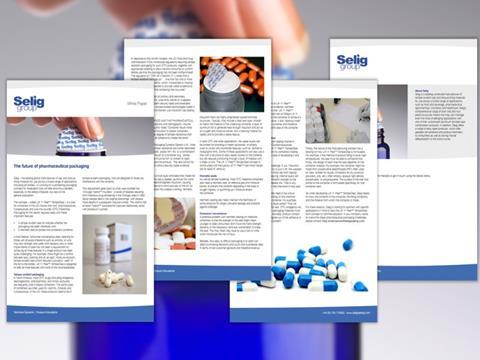 Selig, a global manufacturer of cap and closure lining materials for use across a broad range of applications, has published a white paper outlining a pioneering packaging concept for medication.
'The future of pharmaceutical packaging' discusses Lift 'n' Peel™ TamperSeal, a liner for containers in the US market that hold pharmaceuticals, nutraceuticals and over-the-counter (OTC) medicines. The liner is particularly aimed at the elderly/impaired as well as the general population. Packaging for the medicine and OTC sector requires tamper evidence to reveal any interference with the contents and a hermetic seal to protect the efficacy of the contents from moisture or oxygen degradation.
These packages should also offer easy opening for those with physical limitations, or who may lack strength and suffer from loss of dexterity or other impairments. Lift 'n' Peel™ TamperSeal has the same easy grip half-moon tab as Selig's Lift 'n' Peel™, and bonds directly to the container to achieve a gas and moisture-tight hermetic seal. However, it also 'destroys itself', as it were, when removed from a container and therefore shows tamper evidence on the 'land area' of the container. OTC/pharmaceuticals account for around 20% of the North American induction sealing sector. However, combining tamper evidence, hermetic sealing and consumer convenience has been a challenge in the past and is faced with barriers to entry to this market.
The Lift 'n' Peel™ TamperSeal concept has so far overcome these challenges. However, in order to fully develop the concept for testing and commercialisation, a specific market application and filling conditions need to be targeted. For instance, the container material (i.e. PET, HDPE, glass) and contents of the bottle need to be known since the liner may be constructed differently to accommodate different bottle resins or especially acidic contents. Also, the nature of the filling process (e.g. hot filled, flood filled, pasteurized, etc…) has a bearing on how Lift 'n' Peel™ TamperSeal is designed since different filling temperatures and the level of the fill can affect the heat required for induction sealing of the liner.
Read the detailed white paper here.
Selig is looking for partners with specific applications in mind to take the Lift 'n' Peel™ TamperSeal from concept to commercialisation. Contact John Brown, VP Business Development at Selig (email jbrown@seligsealing.com) for more details.