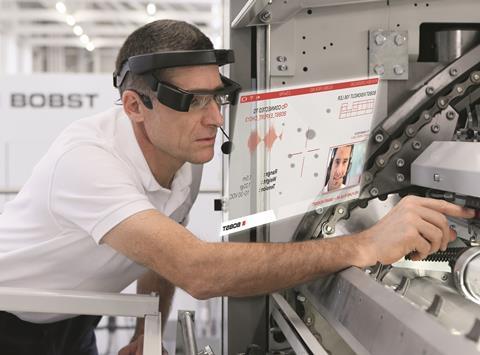 Leading machinery builders and providers for the packaging industry are implementing AR glasses for customer remote assistance. Libby White caught up with three key players on the market BOBST, Marchesini and Norden to discover how, and why.
Connecting with customers
Augmented reality remote assistance is an emerging technology that enables product experts to visually guide and collaborate with customers and field technicians.
BOBST's Helpline Plus AR service, for example, allows an operator to connect to BOBST. By wearing a Smart headset the BOBST expert can see what the operator sees and receive immediate assistance with trouble shooting and issue solving.
Raphael Indermühle, head of sales and marketing, business unit services, BOBST explains, "We know that machine downtime can be costly for our customers. Our solution will shorten the time a machine is down; issues can be solved almost immediately. Our experiences from the standard Helpline Plus service tells us that almost 80% of problems can be solved on-line, with no need to send a BOBST technician to the customer. By adding the augmented reality functionality, we can improve problem solving, shorten downtime and reduce the customer's costs for technician time."
The concept was first presented at drupa 2016 to a positive reaction. Both the software and hardware had to be adapted to industrial use, and BOBST had to consider both personal and IT security in the development. A fully industrialised solution was launched at the end of 2018.
Meanwhile, when the customer service department at Norden Machinery receives an alarm from a customer site about machinery fault, the organisation springs into action. The tube filling systems manufactured by the Kalmar-based company are of complex design and require specialist skills to troubleshoot and repair. XMReality Remote Guidance™, based on AR, offers an effective tool for field service engineers.
"Our clients are located all over the world, manufacturing anything from cosmetics to pharmaceuticals and heavy machinery. Some clients make as many as 1000 tubes per minute, where each minute of downtime can result in significant financial loss," says Christer Bäck, customer service manager at Norden Machinery. The company has experienced strong global demand for support services, but finding the right skills locally is difficult. To Norden Machinery, XMReality Remote Guidance is a valuable tool, enabling its service staff to guide each other without being physically on site.
Mirko Ballo, after sales director, Marchesini, explains its AR glasses are part of a complex concept of remote assistance and are integrated with software to offer customers faster assistance. He explains "Here at MG, we consider the glasses and software an inseparable combination. The 'MG Operative Remote Assistance' function allows MG operators to see what is happening in real-time on the customer's machine/system thanks to the use of AR glasses (or similar devices) and provide specific and exact instructions to the technician on site. Throughout the service, we become the customer's eyes."
In-house tests started during the second half of 2017 for Marchesini with an interfunctional team captained by Marchesini Customer Care with a goal to pinpoint the best solution for implementation. It chose a non-proprietor system that can be used via a dedicated application available for any device or operating system. Marchesini is presently at the start-up phase of the project. It aims to be set-up internally by the end of 2019 so the system is ready to launch on the marketplace.
Real-time benefits
According to Mirko Ballo, customers are interested in receiving technical assistance almost in real-time. He comments, "The benefits are well worth it. The cost takes second place. The main advantage is having a highly skilled MG technician at your disposal very quickly, thus drastically shortening intervention times and quickly understanding the problem."
Raphael Indermühle agrees, listing benefits such as minimising the machine downtime, solving issues immediately, and having a direct connection with the customer. He adds, "Drawings, pictures and written instructions can be displayed on the lens of the headset, and we can even provide instant translations in the customer's language. The use of the smart headset also allows the customer's operator to have both hands free during the conversation, and it gives more junior operators direct access to BOBST expert advice." Ultimately, production can be kept at its optimum.
To Norden Machinery, XMReality's solution means that its service personnel in Kalmar can see and hear exactly what the customer and the service engineer see and hear on the other side of the world, with video and audio in real time.
"This means we are not dependent on having specialist skills on site, while still being able to deliver the support our customers expect from us. Our engineers can also be confident they have powerful support with backup that is always there for them," says Christer Bäck.
Customer satisfaction
Helpline Plus AR is being used already by a number of customers. "All of them are testifying that the immediate connection to a BOBST expert has improved the productivity, and operators have enjoyed using new technology in their daily work," comments Raphael Indermühle.
Marchesini shares figures from the PTC 2018 AR Research project. 107 companies interviewed say that you can achieve a 50% rise in the resolution rate and a 30% improvement of first-time fix rates. The company is investing effort and intense organisation to implement the project as most of its machines are robotised and highly customised.
"Providing new technologies that support our customers' requirements to enhance the connectivity of their machines and to automate their production, is key to further enhance our customer relationships," concludes BOBST's Raphael Indermühle.
"We are living in times of smart factories, Internet of Things and Industry 4.0. Therefore we are continuously working on developing our connectivity services and automating the processes to be able to provide machines and services that maximises our customers' performance and business."