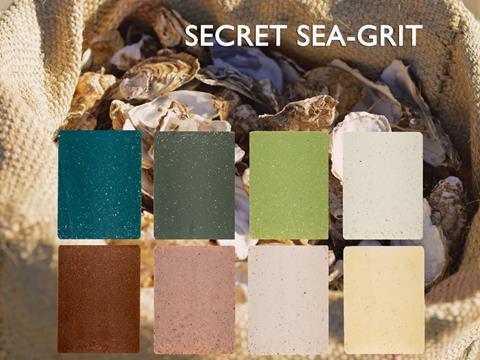 Global masterbatch leader Ampacet has worked alongside NaturePlast to develop a new range of materials made from post-consumer recycling and marine waste – a development explored further in this edition of the Spotlight.
Ampacet, a global masterbatch leader, and NaturePlast, bioplastic experts since 2006, have launched the Secret Sea-Grit collection made from 100% PCR material and aquaculture waste.
As new sustainable strategies are implemented as part of the circular economy, efforts to find solutions to aquaculture waste are becoming increasingly important. The Secret Sea-Grit masterbatch collection of colors shows that waste can be converted into a useful, sustainable product.
Specifically designed for injection molded products, Secret Sea-Grit is suitable for consumer goods and packaging applications in multiple markets.
The collection of timeless, nature-inspired shades provides a nurturing aesthetic available in eight sustainably evocative colorways: Bivalve Brown, Nude Nacre, Muted Murex, Softshell Celadon, Beachcomber Blue, Salty Sienna, Brackish Brown, and Saltwater Sand.
About Ampacet
Founded in 1937, Ampacet Corporation is a leading global masterbatch supplier committed to designing innovative custom color, special effect, high performance and sustainable products and solutions. Ampacet also manufactures a proprietary line of machinery and feeders for the plastic industry aimed to improve efficiencies in plastics manufacturing. Headquartered in Tarrytown, N.Y., Ampacet employs more than 2,000 people worldwide, with 25 manufacturing sites including technical and color development centers in 18 countries throughout the Americas, Asia, and Europe. For more information, visit ampacet.com.
About NaturePlast
NaturePlast and the center of R&D BiopolyNov are devoted to supplying almost all types of bioplastics that are produced in the world, and to produce customized compounds using, among others, natural fibers or by-products from French industries.
NaturePlast, bioplastic experts since 2006, supports industry in the development of new recovery opportunities for their wastes or by-products in the plastic industry. For more information, visit natureplast.eu.
This content was sponsored by Ampacet.