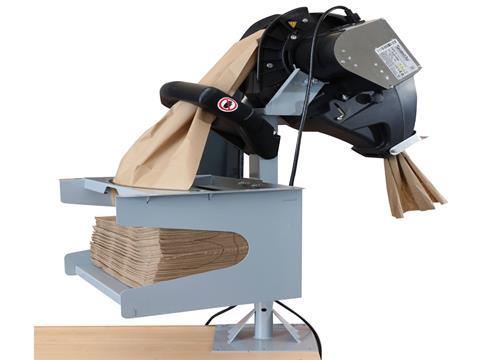 Sealed Air unveils its new brand, FasFil Jr, a paper void fill system that it says will help e-commerce companies to meet the challenges of "efficiently and effectively" scaling up from low to medium volume packaging outputs.
The company adds that FasFil Jr has been developed as a 'plug and play' system for quick set-up and easy operation. The toolless jam clearing and anti-jam sensors help to enhance system reliability and uptime, according to Sealed Air.
In addition, Sealed Air claims FasFil Jr has a small footprint. With fully integrated controls, FasFil Jr also has the ability to create custom void fill material using 100% recycled fanfold paper, which is apparently responsibly sourced.
Sealed Air says that FasFil Jr can convert 380mm fanfold paper in 50gsm or 57gsm weights, with operating modes including cut and hold, manual, and custom sized outputs.
The new system, it adds, can be set up as floor standing or mounted on a table-top stand. It is apparently "ideal" for medium volume e-commerce and fulfilment businesses.
According to Eric Van Der Kallen, EMEA platform manager of protective packaging solutions, inflatables and paper at Sealed Air: "Rising E-commerce demand can quickly outpace packaging capabilities and create bottlenecks that delay the delivery of customer orders and negatively impact overall productivity.
"This can be particularly challenging for smaller businesses, which don't always have the time and resource, space in their premises or capital to upgrade packaging systems.
"FasFil Jr overcomes these issues. It's a cost-effective paper void fill system that's small in size, but big on performance.
"It's easy to position and fit in busy and tight workspaces, whilst its overall design and functionality have been engineered for ease of use and excellent uptime."
Van Der Kallen concludes: "The FasFil range of systems are well known amongst low and high-volume E-commerce businesses for their speed, reliability and ease of use.
"The addition of FasFil Jr means these performance benefits can now be extended to medium volume outputs as well."
Sealed Air has released several innovations to boost efficiencies and scalability for its customers. Earlier this year, it unveiled a new thermoforming packaging solution weighing up to 50% less compared to widely used laminates, with the aim of helping food processors improve both sustainability and efficiency.
Sealed Air's FasFil Jr will be showcased at this year's PPMA show, alongside the company's new all-in-one Bubble Wrap Inflator system. PPMA is taking place from the 28th to the 30th of September 2021 at NEC, Birmingham, UK.