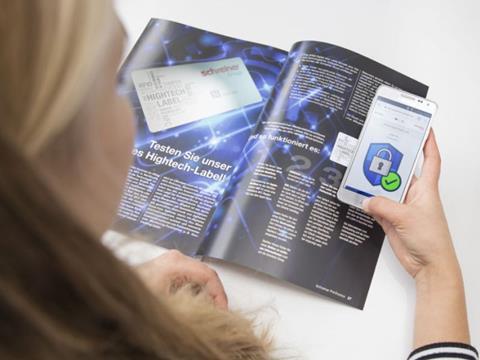 NFC is primarily associated with mobile payment transactions at retail points of sale. However, Schreiner Group's most recent innovation demonstrates that this wireless technology is equally suitable for other scenarios.
The ((rfid))-Digital Void Label provides electronic tamper evidence and can be read using smartphones. It makes label tampering visible, indicating a potential risk to consumers. Manufacturers benefit from this solution as well because integrated geotracking as a monitoring function allows them to see where their products are used. These features were achieved by combining specialized expertise such as printed electronics and digital know-how in this thin, flexible high-tech label.
Reading the label requires an NFC-capable smartphone, in the case of iOS devices Version 11 of the operating system. Users point the phone with the activated NFC feature or reader app toward the label from a distance of a few centimeters. A browser window will then show that the label is intact and display additional information. Via a button users can also access the integrated geotracking feature that shows in what regions of the world the label has been read before. The label indicates tampering in two ways: Peeling the label off the surface produces a void effect as visual tamper evidence. In addition, when scanning the label with a smartphone, a printed electronic sensor signal will indicate a tampering attempt.
Hybrid Electronics, RFID Technology and Digital Know-how CombinedThe ((rfid))-Digital Void Label produced exclusively by means of printing technology is based on the ISO / IEC 14443 industry standard and includes NFC Forum Tag 2 conformant Tag ICs with an operating range of up to 10 centimeters. The sample label brings together Schreiner Group's various areas of expertise using a combination of a silicon chip and printed conductive track. It includes an invisible sensor of printed electronics that is severed in a tampering attempt. The contactless radio wave transmission via RFID (Radio Frequency Identification) operates via a chip and an antenna. Schreiner Group performs chip programming and encryption in-house. Integration of UHF chips for industrial applications is available.
The integrated void effect serves as visual tamper evidence: Due to the use of a special film the label surface is partially destroyed in a tampering attempt, which is irrevocable and readily visible. A digital information system reads the label's tampering condition and saves it in a database, paving the way for monitoring in the form of geotracking, for example. Complementary security features such as holograms, color-shifting inks or thermochromatic inks may be added.
Ready for Production, Open to New ApplicationsThe high-tech label for roll-to-roll processes offers optimum prerequisites for automated further processing and industrial manufacturing. The thin, flexible and multi-layer film-based products can be provided with additional features such as a logging function to indicate the time at which the label was tampered with or a temperature sensor. The ((rfid))-Digital Void Label supports a wide range of applications such as interactive advertising, proximity retail marketing, product authentication and product parameterization or on-package and on-product information exchange.
More info: