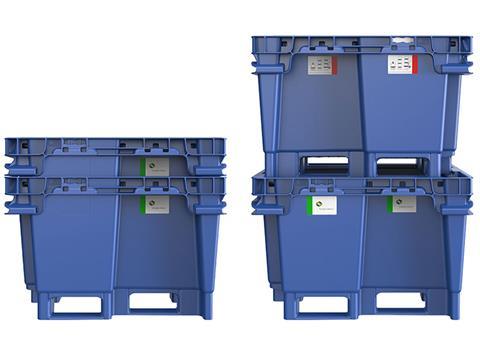 Hygienic, stackable, and designed to maximise freight storage, Schoeller Allibert claims that its new rigid pallet container is the next generation in sustainable, returnable packaging.
The company says that its new product, JumboNest, provides up to 525 litres or 600 kg of capacity, and is stackable up to six boxes high. The product reportedly improves vehicle fill by 250% and is nestable when empty – ostensibly enabling suppliers and forwarders to optimise limited freight space.
Constructed from a single piece of high-density plastic, JumboNest is equipped with handles on all four sides and integrated shock absorbers.
The product has been specifically designed with conical sidewalls, reportedly allowing airflow to improve cold air circulation when containers are stacked and flanked. Schoeller Allibert argues that this feature reduces the amount of energy needed to store temperature-critical produce – minimising the environmental impact. In addition, JumboNest includes two RFID panels and designated clear-view label zones.
The new product can also be upgraded to include Internet of Things (IoT) functionality, providing transparency over statistics including location, temperature and humidity.
Ludo Gielen, CEO of Schoeller Allibert says: "As Europe's market leader in supply chain operations, JumboNest represents the latest and most innovative product in Schoeller Allibert's commitment to the circular economy. We aim to promote and safeguard sustainability through the design and creation of environmentally responsible logistical solutions that serve global supply chains."