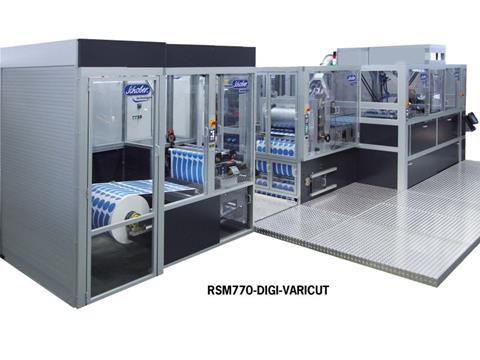 With the RSM770-DIGI-VARICUT, Schobertechnologies has developed a new generation of hybrid drive technology especially designed for digitally printed flexible packaging materials, which combines continuous and vector rotary die cutting technology in re-registration mode, thus a wide range of formats can be processed with a single tool or magnetic cylinder.
With a fully modular design, the RSM770-DIGI-VARICUT is designed to convert webs up to 770 mm width to suit image sizes of 740 x 1100 mm and offers automated stacking device.
Additional technologies to be highlighted:
- Rotary Cutting & Creasing Tools for the productions of packaging blanks – Extremely long lifetime is achieved by combining high quality long life materials for the die cutting cylinder and wear resistant and anvil cylinder in top coat design.
- High Performance Punching Modules - Punching tools for dense patterns with exchangeable punches and dies for punching paper, film and foils as thin as 0,015 mm.
- Rotary die cutting-perforating module – for processing multiple blis-ters in one sheet or as an individual package, made out of various ma-terials, among all PVC and PET.
- Modules and tools for Braille embossing – The braille embossing can either be applied in the printing or in the converting machines such as window foil sealing machines. In the printing machine the braille embossing is applied in the creasing or die cutting station.
- High-Capacity and High-Speed heavy duty rotary die cutting mod-ules with cylinder quick lifting device
Germany-based Schobertechnologies specializes in the development, design and manufacturing of rotary tools, modules and specialty machines widely used in film, foil, packaging, non-wovens and paper converting industries. This technically superior equipment is sold in more than 100 countries worldwide. The development and production of the first Schober rotary die cutting and stacking machines for the production of in-mould labels goes back to 1990 and we can proudly announce that more than 60 RSM machines have been installed in over 30 countries all around the world. It is now recognized as the most advanced and efficient machine for the production of IML on the market.
September 25th - September 28th, 2017, Booth 8A52
More info: