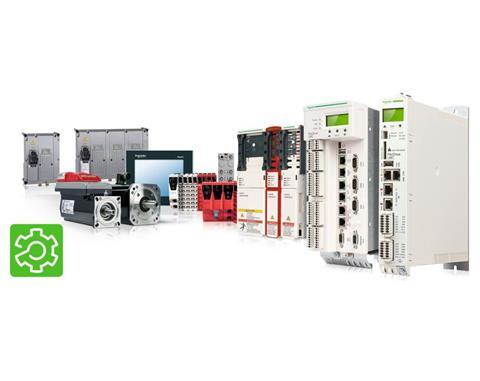 Schneider Electric, the global specialist in energy management and automation, showcased its smart machine solutions for packaging at interpack 2017.
Schneider Electric's smart machine solutions are built on their IoT-enabled open and interoperable EcoStruxure system architecture and platform that deliver Innovation At Every Level, from connected products to edge control to applications, analytics, and services.
Schneider Electric continues to make strong advances in its PacDrive 3 technology: Thanks to new controllers, the PacDrive 3 system now synchronizes up to 130 servo axes. A Sercos network allows deterministic communication at the production line level, and includes a channel for OPC UA communication. The IP65-rated Lexium 62 ILD detached servo drives for modular machine design are the outstanding innovation on the servo drives side, and the SoMachine tool now comes with new features for smart engineering.
Controller-to-controller communication and OPC UA via Sercos
With controller-to-controller communication (C2C), a master controller within a Sercos network can communicate at the production line level with up to 20 slave-controllers, in parallel to Sercos communication at the field level. In practice, this introduces deterministic real-time communication at the level of the production line: 20 controllers in a PacDrive controller network mean that PacDrive can run up to 2600 axes fully synchronized!
In addition, C2C provides a communication channel for "standard" non real-time communication on top. This channel can be used for OPC UA communication on the same Sercos cable. OPC UA delivers benefits to automation like data browsing and encrypted communication. It is also accepted by multiple automation and IT vendors, qualifying OPC UA as a standard for vertical integration. By combining C2C and OPC UA on the PacDrive controllers, the basis for machine-to-machine communication is set: Horizontal and vertical integration share the same wires.
Lexium 62 ILD detached servo drives need less cabinet space
Innovative motion solutions and robotics are further improving your packaging solutions: With the new Lexium 62 ILD integrated servo drives, the PacDrive 3 automation solution reinforces its market leadership. The Lexium 62 ILD triple and single drive units are detached servo drives in a solidly built housing, suited for installation directly at the machine frame. They fit within the network solution for Lexium 62 ILM integrated servo drives, and enable the use of our standard servo motors - another big step forward for cabinet-less automation, making all types of packaging machines smarter and more compact.
• Plug-&-play technology with pre-assembled hybrid cables• Up to 90% less wiring time• Up to 70% less cabling• Up to 90% less wiring and cabling requirements in the control cabinet• Automatic network configuration• Diagnostic functions
The Lexium 62 ILD is fully software compatible with the Lexium 52 standalone servo drives, as well as with all drives and integrated drives in the Lexium 62 multi-axis servo system. Together, they form the basis for one of the most flexible servo drive solutions available on the market.
Smart engineering – SoMachine with new functions
Simulation, semantic code analysis, automated test and subversion support the application life cycle management in a modular machine design. PacDrive brings the toolchain known for common programming environments into the automation world. With the latest version, SoMachine V4.4, another advancement is coming:
• An integrated dependency viewer enables analysis of the dependencies between modules. A module, in this case, is not just a simple programming object, but a machine module. If a machine has an infeed conveyor, for example, the developer can easily identify all other machine parts relying on this conveyor.• Code conventions can be defined, helping software development teams to enforce the same coding style independent of individual developers. • SoMachine can now generate several metrics describing the complexity of the code. With these indicators, weaknesses in the application can be identified early and managed.• The integrated test automation tool, Etest, has been improved with parameterized tests and more possibilities to define the tests to be carried out.
Fully integrated SCARA robots expand robotics options There are new developments, as well, on PacDrive's robotics side: With the Delta 2 robots (PacDrive T3 and T5), as well as the Delta 3 robots (P2, P4, and P6), Schneider Electric now has a comprehensive range of stainless steel kinematics with different work spaces and for different product weights. Highlights include:
• The fifth axis on Tool Center Point provides new degrees of freedom for Delta 3 kinematics• Faster commissioning with Smart Template
• Direct control of Stäubli´s SCARA kinematics with Lexium servo drives in PacDrive architectures
For complete information on these offers, please refer to our latest robotics press information.PacDrive, Lexium, and SoMachine are all part of EcoStruxure Machine, our machine-centric automation architecture that enables machine builders to design safe, better connected, more flexible, and more efficient machines through advanced digital technologies and open standards.
More info: