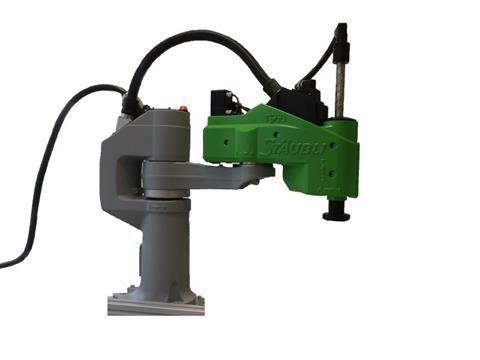 Schneider Electric, the global specialist in energy management and automation, was showcasing its smart machine solutions for packaging at interpack 2017, the leading processes and packaging trade fair taking place in Germany.
Schneider Electric's smart machine solutions are built on our IoT-enabled open and interoperable EcoStruxure system architecture and platform that deliver Innovation At Every Level, from connected products via edge control to applications, analytics, and services.
Schneider Electric is a world-leading specialist in the integration of robotics solutions in machines and processes for the consumer goods industry. The available kinematics are suitable for product handling, as well as for robot-supported packaging processes and sorting tasks, up to end-of-line packaging.
Schneider pioneered the use of robotics 10 years ago when it introduced "embedded robots," which were fully integrated into the automation architecture of machines. Based on standard servo drive technology, the robots were seamlessly integrated into IEC 61131-3 programmable control solutions based on our PacDrive motion control technology. Today, that highly successful approach is being transformed into the "Smart Machine" concept of our EcoStruxure Machine. With this concept, Schneider Electric is preparing for a future in which production processes are increasingly being shaped by the Industrial Internet of Things. New features for existing kinematics, further simplified program integration by Smart Template, and the seamless integration of Stäubli's SCARA kinematics are the current milestones.
With the Delta 2 robots (PacDrive T3 and T5) and the Delta 3 robots (PacDrive P2, P4, and P6), Schneider Electric offers a comprehensive range of kinematics with different work spaces and for different product weights. All robots are made of stainless steel. The Delta 3 kinematics can now be optionally equipped with a fifth axis: A servo drive at the Tool Center Point (TCP) performs turning / tipping movements, resulting in new degrees of freedom and application potential for the movement of the tool or product.
Faster commissioning of robots is possible with Smart Template, a pre-programmed and pre-configured program module. It provides embedded visualization with which a robot can carry out its first movements after just a few clicks.
Schneider Electric is now introducing to its robotics portfolio the Stäubli SCARA TS driven by PacDrive. This new solution can be better integrated into machines and processes, and reduces complexity.
The solution offers multiple advantages to users of PacDrive: the required cabinet space is reduced, and the extensive diagnostic functions of PacDrive now include the SCARA robot. Visualization and predictive maintenance – everything is simplified by the reduced complexity of the solution!
PacDrive is part of EcoStruxure Machine, our machine-centric automation architecture that enables machine builders to design safe, better connected, more flexible, and more efficient machines through advanced digital technologies and open standards.
More info: