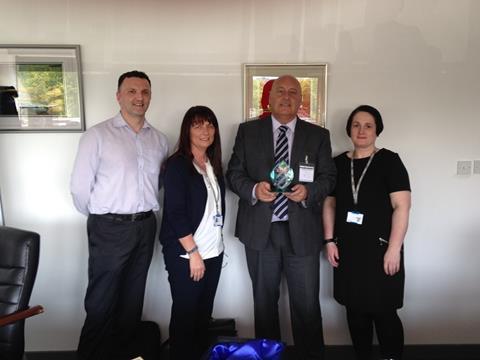 SAICA Pack has claimed the award for 'Best Overall Supplier' at leading printer manufacturer OKI's annual supplier awards for a record eighth successive year.
The award is the latest in what has been a successful year so far for SAICA, following their success at the Nestlé internal supplier awards in March, demonstrating the company's commitment to innovative packaging solutions and outstanding customer support.
For a record eighth time, SAICA was judged to have provided an excellent standard of quality packaging solutions to OKI, helping them to achieve project targets throughout the year and adapt to market changes.
OKI, a major player in the printer market, specifically praised SAICA for their customer service and response to changes; most notably in regards to design input with SAICA able to respond within a 24 hour window to effectively support OKI's needs.
SAICA's Business Development Manager, John Dixon, said:
"We are absolutely delighted to receive this award from OKI. We build relationships with OKI at every level of both our businesses which has allowed us to provide complete and rapid customer support, as well as being proactive in our approach to helping OKI to achieve their targets. The fact that we have won this award for the eighth successive year is testament to the hard work of all our team."
Scott Thomson, Operations Manager, OKI UK Ltd, said:
"SAICA have provided first class support to OKI during a transitional past few years. They have been able to assist us through the implementation of a new Purchase Order process, planning tool, and commercial route change. SAICA have ensured any issues have been dealt with promptly and efficiently. SAICA's support has been invaluable and this award is a fitting way to commemorate that."
More info: