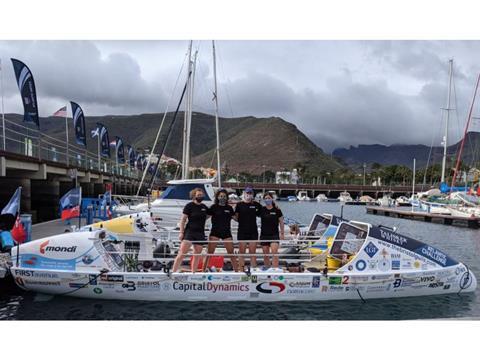 A four woman team will take part in the Talisker Whisky Atlantic Challenge in an Eco Boat, to raise awareness around plastic pollution. We take a closer look at what made Mondi's recyclable BarrierPack the team's food packaging of choice.
As the main sponsor, Mondi has provided the Bristol Gulls, a four-women team taking on the Talisker Whisky Atlantic Challenge by rowing an Eco Boat for the 4,800km race, with recyclable packaging for their freeze dried food.
The Bristol Gulls will be the first team to race an Eco Boat in the challenge, underlining their commitment to sustainability and raising awareness around plastic pollution. The boat has been designed and built to have a reduced impact on the environment, by using responsibly sourced materials, recycled content, and renewable energy.
"We wanted the boat to be sustainable, alongside everything else, including our food packaging, clothing, cosmetics and hygiene products," said crew member Phoebe Wright of the Bristol Gulls.
The crew vacuum-sealed their freeze-dried meals in Mondi's award-winning mono-material BarrierPack recyclable to keep their food safe at sea. Considering the rowers will burn in excess of 5,000 calories per day in their six weeks at sea, nutrition is an important factor. Given the length of the trip, keeping the food safe and dry is crucial, as is avoiding excess weight and taking up as little space as possible. Each pouch weighs 12.4 grams, which when using 500 pouches, adds up to 6.2 kilograms of weight. In comparison, a typical rigid tray with a lidding film would weigh around 25 grams – so Mondi's pouch allows a weight saving of up to over 50%. Compared to typical rigid tubs, like ice cream containers, the weight saving can go up to 70%.
Sustainable and lightweight
Asked about the reasons why they chose Mondi's BarrierPack recyclable for their trip, the Bristol Gulls outlined the challenge of finding a sustainable, yet lightweight packaging for their food as their biggest motivation.
"When it comes to the health of our waterways and oceans, plastic waste is a huge problem. Most expedition style dehydrated meals come in single-use non-recyclable pouches. We have to take enough food for four of us, for up to 55 days at sea. We wanted to make a difference here and find an alternative solution that would mean our packaging wouldn't just end up in landfill in Antigua. Our criteria was for food safe packaging that would be able to withstand extreme conditions including heat, humidity, possible contamination and be compact as we have limited space on board. We were thrilled that Mondi manufactures fully recyclable pouches that fulfil all our requirements."
The team has packed over 700 pouches, with breakfasts, lunches and dinners as well as storing individual daily snacks.
"We opted for the reseal zip closure which will be ideal for on board for keeping food from spilling out or spoiling once opened. We made our own breakfasts with oats and dried fruit and vacuum sealed these for optimum preservation and to save space."
"Flexible plastic packaging like BarrierPack Recyclable can extend food's shelf-life, reducing food waste and optimising transport. This is all part of the puzzle when creating packaging that is sustainable by design. It is also important that flexible packaging is recyclable, so it can be part of the circular economy and keep plastic out of the ocean. That is why we are proud to support the Bristol Gulls in their campaign to raise awareness for plastic pollution. We wish them all the best for their epic challenge," says Stijn De Wit, Head of Marketing for Flexible Packaging and Engineered Materials from Mondi.
He recapitulates some of the main benefits of BarrierPack Recyclable that made it particularly suitable for storing food on this boat trip.
"BarrierPack Recyclable is lighter than PET/PE laminates of the same thickness, and is suitable for mechanical recycling where existing recycling systems are in place. It offers the possibility for a linear tear without pre-perforation."
Raising awareness of the plastic problem
The four woman team sees taking part in the Talisker Whisky Atlantic Challenge as an important way to raise awareness of the plastic pollution problem the world faces.
"We came together as a team and connected through our deep respect for the natural environment, our passion for protecting our oceans and our dismay at the plastic problem that the world faces. We realised we could use our campaign to highlight the issues of ocean pollution and raise awareness of sustainability. We named our team The Bristol Gulls, after the city that we are based in, and our plan to row the Atlantic developed from there. By rowing 3000 miles across the Atlantic, we not only want to inspire others to make changes in their lives that will help the planet and help reduce plastic pollution, but we also want to inspire other girls and women to take on adventures and challenges that may scare them at first glance."