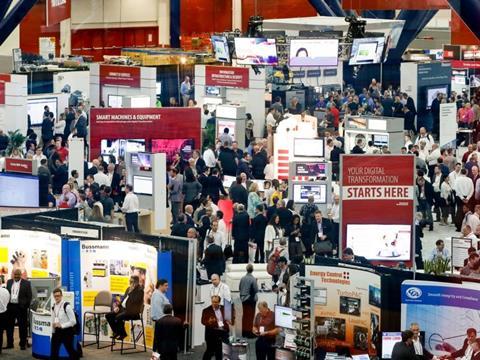 Thousands of industrial professionals are convening in Houston for the Automation Fair event to learn more about the latest advanced manufacturing technologies shaping the industry, and the automation tools that can help them be more globally competitive and productive.
Hosted by Rockwell Automation and its PartnerNetwork members, the Automation Fair event is the premier industry experience uniquely designed to help manufacturers and OEMs optimise their automation investments to achieve their business goals.
"This week is about showcasing technologies and information that help make industrial companies and their people more productive. We are also taking the opportunity to show our support for the people of Houston and surrounding communities as they continue to rebuild and recover from the recent hurricanes," said Blake Moret, president and CEO, Rockwell Automation.
At the event, attendees are seeing a variety of technologies that help support digital transformation – using production data to improve business outcomes – and best practices for monitoring and managing operations to increase integration and collaboration across the enterprise. To this end, Rockwell Automation has again expanded its analytics offering with a new platform that pulls data from virtually any source in the enterprise, and delivers analytics in intuitive dashboards, helping users to rapidly resolve issues and drive tangible business outcomes across The Connected Enterprise.
Hundreds of process automation professionals arrived early in Houston to attend the annual Process Solutions User Group (PSUG), held on Nov. 13 and 14. The event featured over 25 technical sessions, 10 hands-on labs and more than 25 presentations by Rockwell Automation customers, including an open-forum panel of industry experts.
On Nov. 14, global media and industry analysts attended the half-day media forum, Automation Perspectives. At this event, executive leadership and industry experts shared their vision and thought leadership on ways companies are realising value from digital transformation across industries, and the technologies being used to achieve this. Industry leaders also shared their strategies for addressing the manufacturing skills shortage, with a new program developed jointly by Rockwell Automation and ManpowerGroup that taps into the talents and skills of U.S. military veterans to help solve this critical challenge.
In conjunction with the Automation Fair event, employees, partners and customers of Rockwell Automation are joining forces with United Way to help pack over 8,000 Thanksgiving dinner kits as part of the company's ongoing effort to support hurricane recovery efforts, and build on its commitment to Houston. Together, the two organisations are helping to distribute dinner kits to residents immediately following the conclusion of the Automation Fair event through various United Way affiliate agencies and partners.
The 2017 Automation Fair event features more than 140 exhibits showcasing the latest innovations in automation. It also includes nine industry forums, 19 hands-on labs and 93 technical sessions designed to expand attendee knowledge and use of the latest control, power and advanced manufacturing and enterprise information technologies.
More info: