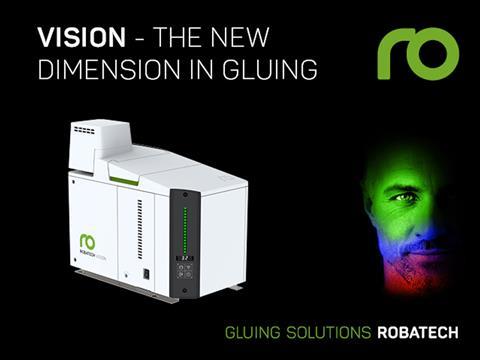 Robatech introduces Vision in our latest Innovation Spotlight – a new smart melter that the company says will initiate a new dimension in gluing.
Vision delivers repeatable and uniform hot-melt application quality which makes gluing of primary and secondary packaging more reliable.
The adhesive melter processes thermoplastic adhesives gently with a heating temperature that is regulated precisely over two heating zones to prevent any overheating. The heat distribution inside the melter keeps the hot melt viscosity at a constant value, preserving its ideal adhesion characteristics. To ensure stable delivery pressure, a fast-switching piston pump is used.
"Vision delivers hot melt in repeatable and uniform quality. This is a precondition for high-precision adhesive application at high production speeds," says Sabine Wiemann, Product Manager for Small Units and Hot Melt Application Heads at Robatech. "With the new melter, we respond to the rising demand for more process reliability and sustainable production."
Flexible integration into packaging machines
Vision can be positioned length- or crosswise and can be fully integrated into a plant's safety zone. Its small footprint and the flexible placement of the Touch Display enables machine builders to optimize their plant layout. Vision's innovative FlexPort – a 45-degree area for connecting heated hoses in different angles – opens up versatile possibilities for positioning the device and shortening the hose length between melter and application head.
The adhesive melter is equipped with the Robatech Control System, which offers open interfaces or standardized fieldbus protocols for easy system integration and smart control of the entire gluing process from the location of choice. All system functions are preinstalled and can be activated by software key.
Smart Terminal – information at a glance
Vision's Smart Terminal enables operators to keep an eye on operational and status information from a distance. The LED line switches in colour or length, indicating the actual adhesive filling level in the tank or changes in the operation state. Four keys give rapid access to often-used on/off functions. "Our customers love the Smart Terminal. Operators are relieved from repeatedly approaching the melter to check the gluing process," says Wiemann.
Sophisticated and modular design for sustainable gluing processes
All components requiring maintenance are compactly arranged and accessible via a maintenance door. The new lateral opening for cleaning the melter's tank reduces maintenance downtime. Vision is compatible with Robatech application heads and heating hoses made up until 2000.
The company describes Vision as the most energy-efficient melter on the market. "The innovative insulation reduces heat radiation from the melter's tank by 20 % compared to the preceding melters from the Concept Series," Robatech says. "In combination with the new heating hose, Performa, and the application head, SpeedStar Compact, companies can reduce energy consumption considerably while reaching high-precision gluing results."
This content was sponsored by Robatech.