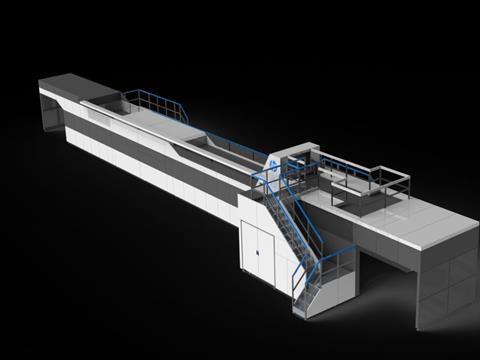 At the seminar, Packaging Europe had the chance to find out more about innovations in the corrugated industry, and caught up with HP, which had a major presence at the event. Eviatar Halevi, the company's director of technology and business development for HP Scitex Industrial presses, talks about how digital printing is having a major impact on the corrugated industry and the potential it offers.
"The Fefco Technical Seminar is one of the main events where all important players are present, and we see this as an opportunity to spread the word and show our capabilities to the world," he says.
HP carried a strong message of commitment to the corrugated market at the technical seminar."We have a roadmap in which we are taking the very first steps in digital printing on corrugated. We are humble enough to realise that we are only at the beginning. We started with the most important assets we believe the industry should see from us - the presses themselves. Alongside we developed interesting complementary workflow elements that make sure presses run smoothly, as well as the very high attention we pay to food packages with our true water based-inks," Mr. Halevi explains.During a spotlight talk at the Fefco event, Mr. Halevi presented the PageWide C500 press, a robust direct-to-board digital corrugated solution, which is capable to print on 1.3 meter-wide boards using an innovative corrugated media handling solution with a virtual belt. Announced at drupa 2016, commercial availability for the press is planned for 2018.
"The C500 is the newest addition to the PageWide family, and beta testing will start this month in Israel," Mr. Halevi is happy to report. When asked what makes this machine such a game changer, Mr. Halevi explains that it will be able to deliver offset print quality directly on boards in an economical and efficient way.
"With its virtual belt and corrugated grip, the press offers accurate media motion for high quality digital print and robust hold of industry grade boards for smooth production flow. Its thermal inkjet technology offers 1M nozzles with six times redundancy for high and consistent print quality. Due to the use of water-based inks, products are food packaging compliant. HP PageWide technology paired with water-based HP inks is the only digital technology that can address the highest standards for food complaints with no concerns of migration of excluded compounds."
He concludes that corrugated is an important material for packaging, and therefore, for packaging printing, and HP is happy to be at the forefront of innovation."Corrugated makes up by far the biggest segment of packaging by volume. To us it is very appealing because of its size and because it is such a green material. Digital print has not been very prominent in that sector, but we are at the start of an exciting new development. The opportunities are huge. you don't get many opportunities in life as a solution provider to take an industry and revolutionise it. HP will always go after big opportunities where it sees potential to be number one. We welcome competition, because it will help us to open the market, but we will lead the way."