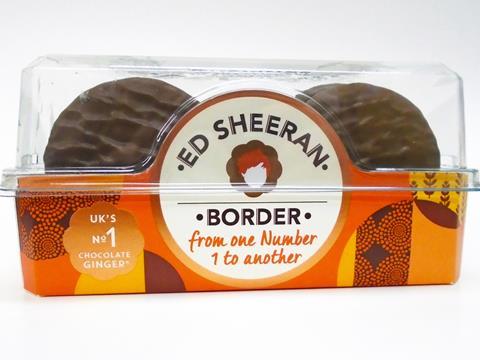 Border Biscuits teamed up with leading print and packaging business Qualvis to send personalised digitally-printed packs of their legendary Dark Chocolate Gingers to flame-haired star Ed Sheeran, ahead of the singer's recent sold-out performances in Glasgow.
Border wanted to celebrate the 30th anniversary of their Dark Chocolate Gingers, the number one special treat biscuit in Scotland, by sending Sheeran unique packs of the biscuits to match his hair colour, along with the message: "From one Number 1 to another".
The packs were delivered personally by Border's heroic mascot Ginger George to Sheeran's dressing room at the SSE Hydro.
The packs were developed and artworked in the new Qualvis Innovations Studio and then printed by their digital offering - a £2m dual digital packaging line investment, recently installed at their Leicester site and featuring a Xerox iGen 4 sheet-fed digital printer, side-by-side with an iGen5 automated line.
Qualvis' creative director, Richard Pacey, said: "As a longstanding customer, we had previously pitched the marketing potential of our digital print capability to Border Biscuits in an innovation session earlier in the year. They then approached us to come up with the artwork concept for the Ed Sheeran marketing initiative. As time was tight, we managed to turn around the concept artwork in a day; once the preferred concept was selected, we finalised the formal copy on the pack, digitally printed a short run and couriered the finished packs to Borders Biscuits in advance of their deadline. The whole project from concept ideation in our innovation studio to delivery of the final packaging took less than 5 days!"
Brand and Innovation Director at Border, Lesley Ann Gray, said: "When we heard Ed was coming to Glasgow we knew we had to give him some of our Dark Chocolate Gingers - as he's one of the nation's favourite gingers and so are our biscuits, it was a perfect fit. The team at Qualvis responded fantastically, quickly arriving at an artwork solution and digitally printing the packs in time for the concerts - a great result!
Pacey added: "Our work for Border Biscuits is exactly where digital can create added-value - feeding demand for short run work and providing our customers with the opportunity of variable personalised printing, prototyping and market testing with the added advantage of quick turnaround. This combined with our graphic and branding capability in the studio delivers a formidable offering."
More info: www.qualvis.co.uk