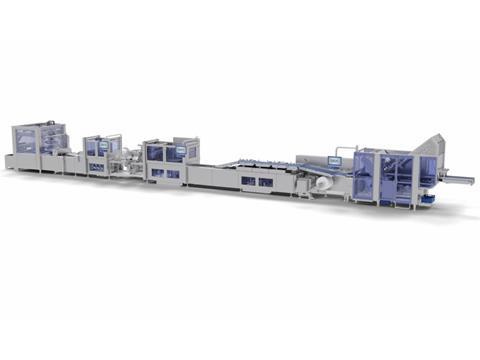 GEA Food Solutions walks us through its developments in food processing and packaging technology – aiming for higher productivity, lower cost, and sustainability across the packaging line – in this edition of the Spotlight.
GEA's new product introductions redefine what's possible
Food producers are facing a wide range of new challenges – from the rising costs of ingredients and energy to higher food safety requirements and the need to seek out solutions for a more circular economy.
GEA is here to help.
Our latest food processing and packaging developments draw on GEA's unique expertise and understanding of particular markets to offer customers the best of both worlds – higher productivity as well as higher levels of sustainability.
We do this by maximizing energy efficiency, reducing packaging materials and waste, and through use of new recyclable materials. Featuring advanced levels of digitization and automation, our solutions cover every segment of the industry and every stage of the packaging line to give a single, coherent vision of the food processing and packaging industry's future based on sustainable, easy-to-use, and intelligent equipment.
Introducing the GEA One Line concept
To maximize productivity and sustainability while minimizing costs, we have taken a radical new look at the slicing and packaging line. Rather than seeing a series of loosely connected components, ours is a vision of unity: a single line in which all components work in total harmony – as one.
The result? Higher capacity per square meter, which reduces operating costs while giving sustainability benefits in terms of power consumption. As well as being easier to operate, a GEA One Line is also easier to maintain thanks to a modular design that shares key elements and spare parts across the different sections of the line.
OptiLoader 6000: seamless thermoformer integration and a gentle touch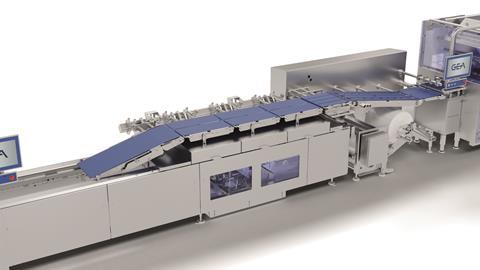 This new belt loading system is placed between a slicer and a thermoformer to transport portions, prepare them to the matrix of a packaging die set, and buffer the reloading time of a slicer to avoid any machine stoppages of the complete line.
OptiRobot 6000: customers asked for higher efficiency and we delivered
Our latest super-flexible robot picker solution offers the highest automation level – which will not only help you reduce your labor costs but result in higher line efficiency than ever.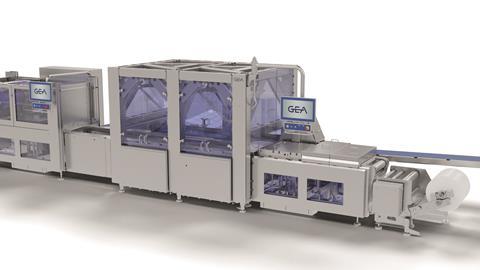 OptiBuffer: the smarter way to keep production moving
Our OptiBuffer solution is an integrated, dynamic, and intelligent buffer system which is completely unrivalled in the world of food processing and packaging today.
PowerSort: maximum control, maximum integration, minimal fuss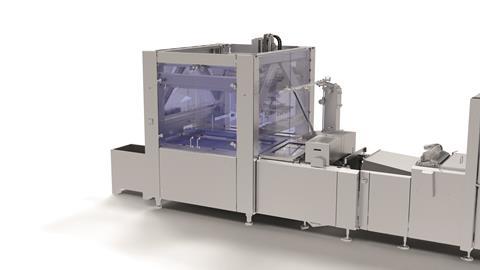 The PowerSort is an advanced single pack pick-and-place in single or double-lane converging system for end-of-line applications. In addition, it sorts 'good' food packages produced by thermoforming packaging machines. If there are any empty or defective ones, they can be rejected in a controlled way reliably and efficiently.
New optimized thermoformer puts sustainability, efficiency and digitalization top of the agenda
Our newly optimized PowerPak and PowerPak PLUS thermoformers feature several breakthrough components which help you deliver the more sustainable packaging your customers are demanding. Packaging using recyclable mono-materials can now be efficiently and reliably produced on a state-of-the-art thermoformer, which is seamlessly integrated on the left and right.
GEA PowerHeat: making mono-material work for food packaging
PowerHeat is a new – and unique – film heating system with multiple and separate heating zones to ensure even heat distribution. In tests, it's been shown to cut energy consumption by 20-30%. Best of all, this innovative new product is ideal for use with mono packaging materials like mono-PP or mono-PE, guaranteeing the required package quality on these recyclable packaging materials.
GEA PowerJet: simply a better way to create modified atmosphere packaging
PowerJet is our new advanced evacuation and gas injection system for GEA thermoformer packaging machines. Now you can achieve high-quality MAP solutions with none of the drawbacks of the traditional method; just fast packaging, modified and sealed perfectly.
The optimum in precision slicing just gets better and better
GEA OptiSlicer 6000
The GEA OptiSlicer 6000 is the optimal high-speed slicing machine in terms of slicing and portioning quality, high productivity, and easy and flexible operations. The OptiSlicer 6000 is easy to operate, easy to clean – and easy to keep clean. Wide doorways give simple access to the product area and glass housing panels enable you to see the entire operation inside.
Meet us at Interpack in hall 3 booth E46 (gea.com).
This content was sponsored by GEA.