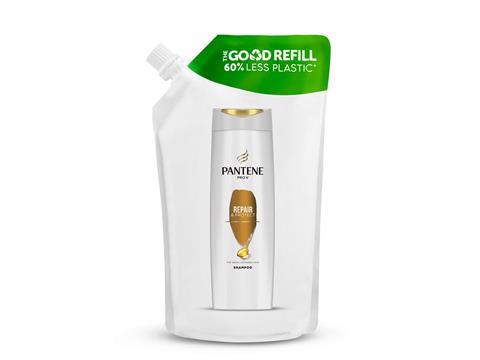 Procter & Gamble has shared an update on its progress towards its "Ambition 2030" goals, in which it has pledged to reduce virgin plastic usage by 50% and reach 100% recyclability or reusability by 2030.
P&G says that it has become the first FMCG company to join the RecyClass initiative, a certification approach for recycling requirements to help deliver the goal of making plastic packaging circular with traceability along the whole value chain. The company obtained 12 product and technology approvals on packaging across its hair care, home care, and fabric care brands, confirming they meet the design-for-recycling criteria guidelines determined by RecyClass.
Meanwhile, Project HolyGrail, the overall winner of Packaging Europe's 2019 Sustainability Awards, now counts more than 120 companies from across the value chain as participants. The company is hopeful that its efforts to demonstrate the potential of this watermarking technology will be recognised by the European Commission and incorporated into its plans for the reform of the Packaging & Packaging Waste Directive.
In terms of changes made to products themselves, P&G's fabric and home care brands including Ariel, Lenor, and Dash pods bags and Fairy Automatic Dishwashing capsules bags have started transitioning from multilayer, non-recyclable flexible packaging to a single layer, recyclable packaging made of polyethylene. This new packaging follows local eco-design criteria, to ensure the films are compatible within local recycling streams.
All in all, the company reports that more than 10,000 tonnes of recycled plastic is now used every year across P&G fabric and home care brands in Fairy, Mr Proper, Swiffer, and Lenor.
Gillette and Venus have also introduced brand-new modern packaging on their refillable razor ranges, which sees them switch from plastic packaging to fully recyclable cardboard packaging.
By exploring consumer reuse consumption models, P&G hopes to breathe longevity into existing products to minimise waste. In partnership with TerraCycle's LOOP platform, haircare brands Head & Shoulders, Pantene, Herbal Essences and Aussie are now available in reusable aluminium bottles and recyclable refill pouches that are available across stores in Europe. According to the company, this will result in 300 million fewer plastic bottles being produced yearly.
"Much has changed in the last year, but our commitment to enabling and inspiring positive impacts through our supply chain, our brands, and our partnerships have remained the same," says Virginie Helias, P&G's chief sustainability officer.
"We are innovating to accelerate the development of the circular economy: from spearheading the Holy Grail intelligent sorting concept, reducing our use of virgin petroleum plastic, and increasing recycled material content to developing alternative refill models at scale. This is a combination of innovation and collective action."