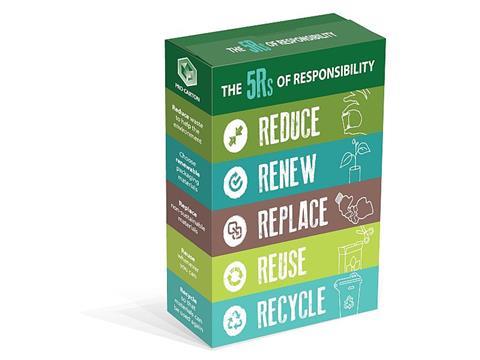 Pro Carton – the European Association of Carton and Cartonboard manufacturers – has called for an update on the 3 Rs of Recycling – updating the waste hierarchy to respond to today's packaging conundrum.
Its 5 Rs of Responsibility, include implementable steps for consumers, brand owners, retailers, manufacturers and government to help reduce the impact packaging waste has on our environment.
Pro Carton's 5 Rs include the well-known Reduce, Reuse and Recycle, but it believes two additional steps should be considered: Renew and Replace. These steps represent a guideline in which society can take responsibility for their actions, reduce the levels of packaging waste created and move towards a true circular economy.
- Reduce: An efficient way to help the environment is to reduce waste all together. Packaging manufacturers have long adopted a philosophy to minimise packaging both to reduce costs and minimise the impact on the environment.
- Reuse: Reusable or returnable packaging is designed to be used many times, offering significant benefits in terms of sustainability, productivity, food safety and more.
- Recycle: Packaging doesn't need to cause harm on our environment. The solution is to improve recycling rates. To do this, manufacturers need to ensure all packaging is recyclable, while governments need to regulate and standardise the recycling services on offer to both consumers and businesses.
- Renew: By choosing packaging materials that are renewable, brands can improve sustainability and take steps to achieve the circular economy.
- Replace: There is a vast range of packaging materials currently available on the market that are both renewable and sustainable, making replacing non-sustainable and non-recyclable packaging a clear step in the right direction. Brands can replace materials that may damage our surroundings with environmentally-friendly alternatives, without impacting brand equity and on-shelf appeal.
Tony Hitchin, general manager of Pro Carton, explains: "Replace refers to replacing less environmentally materials with ones that are more so. We've already seen development of cartonboard with improved grease and moisture resistance (as seen in fast foods) and developments in this area will continue. It's also a case of reviewing existing packaging formats and coming up with new designs that are better for the environment regardless of the material they are made from. As a good example, even if not seasonally appropriate, if you take Easter Egg packaging nowadays they are largely made from cartonboard, that simply wasn't the case a few years ago."
Asked about packaging applications in which he sees carton capturing new market share, he adds: "There are plenty of market sectors where cartonboard could replace less environmentally-friendly packaging and thereby reduce the damage that is being done to the environment. It's already happened to a large extent in the fast food industry but there are opportunities right across the market. Packaging is an important element of the marketing mix and plays a much wider role than just protecting the product. It is a key promotional tool that can enforce the identity that is inextricably linked to a brand – but it doesn't need to leave any lasting damage on our planet. Cartonboard as a material is made from renewable resources, is biodegradable and recyclable. It is the natural choice for the packaging industry."