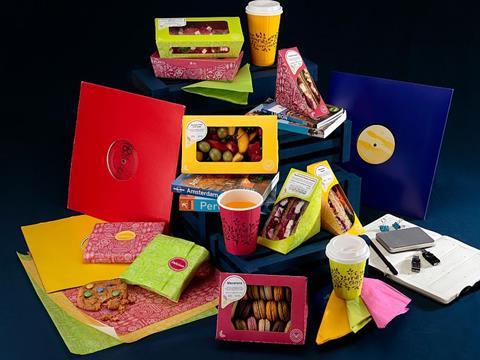 Planglow has launched a box-fresh new packaging and labelling collection, Botanical Plus, which is made from sustainable, plant-based materials and suitable for both home and industrial composting.
The range introduces eight vibrant grab and go products in three fruity shades – mango, berry and lime. Botanical Plus includes: five eco packaging items - two wedges (deep-fill and standard-fill), two salad packs (large and small) and a dazzling deli paper; plus two sheet labels designs (12 and 15-per-sheet) and a matching 'delicious' sticker.
Jess Lyons, PR and marketing coordinator at Planglow commented, "Botanical Plus has been developed specifically for the youth market and in full consultation with our customers. It introduces key grab and go products in three eye-popping shades. This colourful, compostable plant-based collection carries a strong eco print and environmental messaging that clearly states its earth-kind credentials. Botanical Plus is brighter and bolder than anything else on the market and other products truly pale in comparison".
Deep-fill and standard-fill wedges
Featuring a unique certified home compostable laminate (which also forms the window), these food waste reducing sandwich boxes help to seal in product freshness and are made from entirely plant-based, sustainable materials that will break down in both home and industrial composting environments. The sandwich packs come in mixed boxes of all three Botanical Plus shades. Provided flat packed, simply squeeze the sides to form, seal using the clip-in tab and finish with Botanical Plus label. Slim line to fuller-filled sandwiches covered.
Large and small salad packs
These eco food containers come in 650cc and 1,000cc sizes and are made for both chilled and ambient goods – from salads, pasta and sushi to sandwiches and baked goods. The salad packs come in mixed boxes of 200 packs - 50 berry, 50 mango and 100 lime - and like our sandwich wedges, are lined / windowed with our wood pulp based laminate which helps to safeguards against leaks and seeps.
Deli paper
This versatile grease-resistant paper supports a vibrant, earth-kind presentation for a wide variety of sandwiches, bakery items and takeaway goods. Made from a sustainable and renewable material, this grease resistant wrapper is both home and industrially compostable (where facilitated) - not to mention recyclable too. The Botanical Plus Deli Paper comes in a mixed pack of all three fruity Botanical shades, seal with the colourful Delicious Sticker for a truly attention-grabbing finish.
Delicious Sticker
This vibrant oval sticker comes in mango, berry and lime with all three colours combined on one mixed roll of 1,000 stickers. The eye-catching semi-gloss Botanical Plus Sticker can be used to seal, to highlight promotions or as an additional presentational element. Pair with our Botanical Plus Deli Paper and other eco packaging for an attention grabbing eco finish.
Two sheet labels designs
Combining a unique speech bubble shape with a vibrant border and three-leaf motif, the matt finish Botanical Plus labels create a clean, eye-catching finish and are available in a rounded 15-per sheet design and larger 12-per-sheet rectangular label. Suitable for use with both inkjet and laser printers, overprint with product information, nutri data, logos and more using our speedy labelling software – LabelLogic Live – then simply apply to sandwiches, salads, snacks and more. These quirky labels can also be paired with packaging from our Natural Collection for a bright yet rustic presentation.