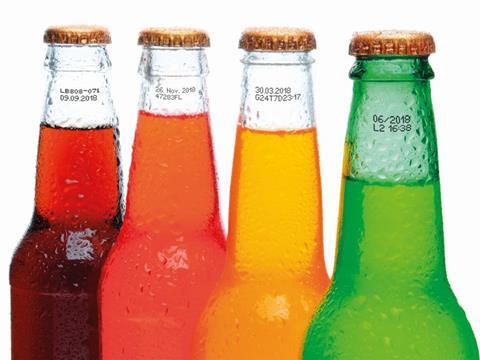 The German marking specialist Paul LEIBINGER is presenting its marking solutions for the beverage industry at the drinktec trade show in Munich from September 11 to 15, 2017.
At Booth 506 in Hall B4, trade show visitors will be able to see for themselves the quality and reliability of the German-made industrial inkjet printers. They will get the chance to watch as samples they have brought with them are marked and coded live at the booth.
A reliable and flexible marking system is of central importance to the filling process, because bottles, cans and beverage cartons cannot be sold without an expiration or best before date. If a marking device fails, then the whole production line stops—a scenario that can be avoided. The continuous inkjet printers from the German company Paul LEIBINGER provide the reliability and flexibility that the beverage industry needs.
To ensure high reliability of the marking technology and prevent downtimes, all LEIBINGER inkjet printers are equipped with the automated Sealtronic nozzle seal. This keeps the ink from drying in the printhead, even during long pauses in production. Therefore, the printer is ready for use at any time, within a few seconds and without the need for rinsing before starting the printing process.
At the same time, the digital printing technology offers a variety of application options. For example, it is possible not only to print expiration dates and LOT numbers, but also to implement advertising campaigns with lottery codes and QR codes for customer loyalty. Thanks to the non-contact marking with fast-drying inks during ongoing production, it is possible to label all kinds of materials (glass, PET, metal, etc.) and surfaces (concave, convex, etc.) with individual dates in a matter of seconds.
LEIBINGER meets the stringent requirements for raw and wet production environments in the beverage industry with its JET3up PRO inkjet printer. This printer has a particularly rugged stainless steel housing with protection class IP65, which protects it against dust and spray water. With special inks for coding glass bottles and industry-specific software for printing promotion codes from a database, LEIBINGER provides a variety of solutions for specific needs of the beverage industry.
In addition to the inkjet printers, Paul Leibinger GmbH & Co. KG offers a vision system for quality control of printed data. V-check automatically compares the marking applied to the product using a LEIBINGER inkjet printer against a reference sample and detects incorrect or incomplete data. The system is based on an image sensor and enables complete monitoring of elements that have been defined in advance, such as letters, numbers or logos. For customers who need a high-end solution in the area of verification, LEIBINGER's LKS 5 camera system is the right choice.
More info: