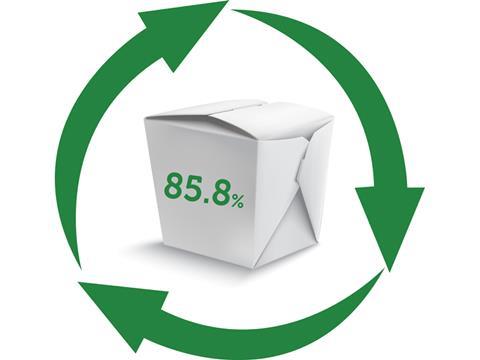 The amount of paper and cardboard packaging now recycled in Europe has reached a record high, according to figures released by the European Union (EU) ahead of Global Recycling Day (18 March 2019).
Across the 28 countries of the EU, the recycling rate1 for paper and cardboard packaging waste has reached 85.8%, the highest in the study's history and the largest of all the packaging materials analysed2 Metallic and glass packaging came in at close second and third places, with recycling rates of 78.3% and 74.1% respectively.
This news follows the results of a recent study conducted by German University Technische Universität Darmstadt, which concluded from their tests that cartons can be recycled up to 25 times.
Tony Hitchin, General Manager for Pro Carton, the European Association for Carton and Cartonboard manufacturers, commented: "Cartonboard is not only renewable but also fully recyclable and biodegradable, making it the most economically and ecologically balanced packaging material and a perfect example of the circular economy in action".
The second annual Global Recycling Day takes place on 18 March 2019, with the theme 'Recycling into the Future'. The Global Recycling Foundation will focus on the power of youth, education and innovation in ensuring a brighter future for the planet.
---
1 'Recycling rate' for the purposes of Article 6(1) of Directive 94/62/EC means the total quantity of recycled packaging waste, divided by the total quantity of generated packaging waste.
2 The study analysed glass, plastic, paper and cardboard, metallic, wooden and other types of packaging.