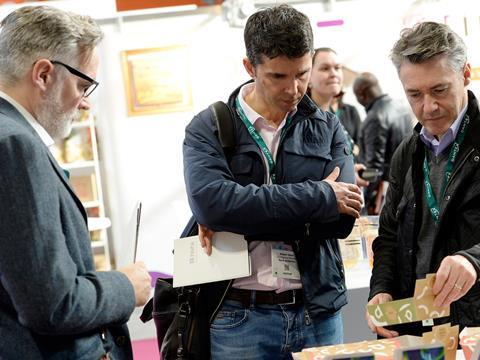 Cutting-edge packaging technologies and solutions will take centre stage at Packaging Innovations 2020, which returns to Birmingham's NEC on 26 & 27 February.
New for 2020, the show will host a Cobot area and welcome a Start-Up Village, as well as showcasing more than 300 exhibitors, many for the very first time.
Cobot Area
Nine out of 10 packaging companies are now using robots, so to reflect this growth, the show will present a new area dedicated to the latest advancements in automated systems.
Reeco Automation will display its automated systems that use human-robot collaboration to reduce production costs by integrating with employees and factory equipment.
Vikaso will showcase its Robotics 4.0 ready solution, alongside the Kuka LBR iiwa, an innovation that allows energy and communication to be conveyed to the robot, offering ease of programming and a TCP Force sensor.
RARUK will unveil two new systems. The SMARTSHIFT Tool Changer which provides simple and fast tool shifting on virtually any type of robot and the EasyPalletizer, a platform that works with Universal Robots to make box palletising easy and mobile.
Simmatic Automation Specialists, the UK's only agent of SIASUN Cobots, will showcase the next generation of seven-axis cobots.
New Product Launches
Sustainability will be a key theme throughout the show with many exhibitors unveiling their latest eco-friendly solutions live at the event.
Carlton Packaging will launch the X Taper®, an automatic biodegradable handheld paper tape dispenser that provides a tamper-evident and fully recyclable seal for cartons.
Plastimak will debut two sustainable innovations. The EcoMak | Recyclable, a mono-PE structure with high-functional barriers, and EcoMak | Recyclable Paper, a multi-layer plastic substitute.
Giflor Closure Technologies will release its new 100% post-consumer resin closures which help to reduce a brands' carbon footprint.
Orbital Industries will introduce its Orbi Eco Wrap, made from 51 percent sugarcane.
FFP Packaging Solutions will launch Esterseal, a flexible lidding film for pots, tubs, and trays that is widely recyclable and can be collected kerbside.
Foxpak Flexibles will debut its Compostable Coffee Pouch made from plant-based materials.
Coveris will unveil RecyclaLite™, its lightweight sandwich skillet for the food-to-go sector featuring a peel-able function for consumers to separate film from board.
Vetroplas and Eurovetrocap will launch their range of clear bottles and jars made from 90 percent recycled glass.
Delipac will debut its Sustainable Suite: 'Meal Deal', the first of its kind to combine a sandwich pack and coffee cup, and suitable for freezing, heating, and chilling.
A.Hatzopoulos S.A. will introduce its X-CYCLE recycle-ready, flexible packaging solutions with PP, PE, and mixed-poly variants that feature high-barrier properties.
The Start-Up Village
Also joining the show floor are six up-and-coming packaging companies presenting their cutting-edge innovations as part of the Start-Up Village.
Combi Shots will present its unique container system that is able to mix two or more substances at the point of use.
ReCircle Recycling will present the first ever 100 percent closed-loop recycling solution that sorts, washes, and grinds recycling into pure materials then sells it to manufacturers.
Triple Line Technology will showcase its TLT-Foamer technology that offers a sustainable method of foam generation for packaged goods, without VOCs.
GUMIPOD is the world's first patent-pending packaging with an integrated chewing gum bin that allows for the storage of fresh gum on one side and discarded gum on the other.
Glancy 3D will showcase the first artificial intelligence for packaging design assessment and optimisation, designed to show which areas have high/low visual attractiveness.
Woohoop.com Packaging offers a unique approach to packaging by providing standard box templates for different applications that can be printed with any brands artwork.
Victoria Blake, Event Director of Easyfairs' UK Packaging Portfolio, comments: "Our aim for the event is always to showcase the latest innovations in packaging for our visitors to discover to fulfil their own packaging needs, and this year is no exception. From sustainable solutions, clever designs, cutting-edge technologies, and robotic systems, innovation is alive at every point on the show floor."