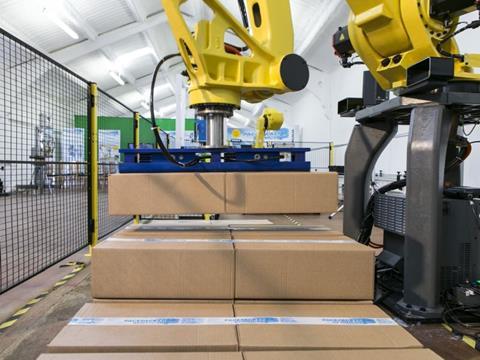 With food and bulk factories reliant on secondary packing and palletising machine uptime to meet delivery schedules and fulfil retailer contracts, Pacepacker Services is demonstrating its latest time and resource saving weapon, Pallet+, this week at the PPMA Show. Tim Sykes reports.
Comparing the new pallet stacking software against more traditional robot teach pendants, Pacepacker will show PPMA visitors how customers are already cutting the time it takes to reprogramme a new pallet stack recipe by over 400% while reducing waste caused by badly stacked delivery pallets by 10%.
Writing the programming code to modify a palletising stack format using a robot teach pendant can involve more than 30 individual jogging and coordinated recording steps on a standard five-fold pattern. With many food factories performing 20+ recipe/stack changes weekly, this trial and error process has long been a drain on resources and production time, resulting in frequent regular engineering callouts.
During 2016, Pacepacker received 27 enquires and 13 call outs from customers requesting engineering assistance to modify palletising recipes. These few hours of machine downtime can quickly impact order fulfilment, delivery schedules and cause production bottlenecks.
"With robotic palletising systems, users have to understand the robot's programming methodology and how to apply it using a robot teach pendant," explained Richard Gladwin, Pacepacker's technical director. "This requires training, plus regular use in order to maintain familiarity. We observed that very few of customers performing primary, secondary or even tertiary packing tasks use pendants for these very reasons, usually relying on an engineer's visit."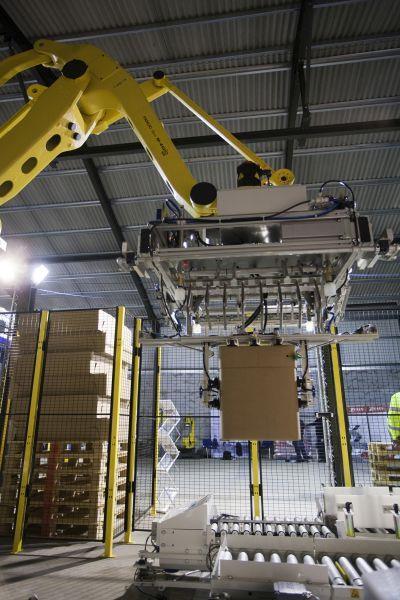 Numbers that stack up
Catering to fast-changing product formats, packaging shapes and sizes, Pallet+ enables factory operatives to change, store and recall new or revised robotic palletising and case loading recipes in several minutes versus over an hour with usual robot teach pendants. What's more, it requires little programming knowledge as Pacepacker demonstrates at the show.
Using a video, Pacepacker walked visitors through the effort involved in reprogramming a standard five-fold pallet stack using 600mm by 400mm cases. In just over two minutes the Pallet+ software was ready to go. For an experienced engineer, the coordinated steps took over 9nineminutes. Most operatives take much longer going backwards and forward making small adjustments.
How Pallet+ works
Programme changes are performed on a control panel local to the machine or off-line via a separate computer. If extra assistance is required, Pacepacker can create new palletising recipes and email them to customers, or login remotely and upload - eliminating costly and time-consuming engineer visits.
The software features graphical elements and value-entry boxes, making the Pallet+ interface much more intuitive to use.
One of the first customers to introduce Pallet+ into its business praises the benefits, saying: "With over 90 variants of cases we are often changing the pallet stacking pattern to suit a new case. This software makes it really simple to change between case stacking patterns and to add new ones as required."
By eliminating the human trial and error programming judgements, pallet stacks are noticeably more stable, resulting in less product damage.
Pallet+ is available as standard on all new robotic palletising systems supplied by Pacepacker. It can also easily be applied to food case loading operation. Ten more customers are already planning to upgrade or convert from robot teach pendants to Pallet+ by end of 2017.