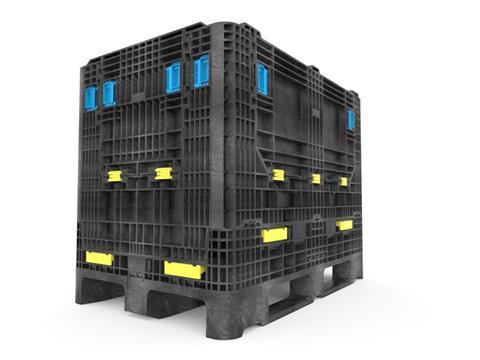 ORBIS® Corporation, an international manufacturer of sustainable reusable packaging and an expert in supply chain optimization, is launching a new foldable container (FLC) for use in the European market.
Designed to European dimensions and produced in Europe, the 1200mm x 800mm GitterPak™ holds up to 900 kg and is a reliable substitute for metal gitterboxes, metal tubs and wooden crates. As part of the ORBIS line of FLCs, the GitterPak (Model HDB1208) offers logistics advantages, warehouse cost-savings and an environmentally friendly alternative to steel tubs, wood pallets and crates.
The GitterPak stacks securely when full and folds when empty for return trips, allowing for more containers per truck when compared with fixed-wall gitterboxes. With its all-plastic design, it features a tare weight less than metal bins, so trucks will efficiently cube out before weighing out because of heavy packaging.
Its 1200mm x 800mm x 960mm footprint makes it ideal for sequencing parts, as well as right-sizing part shipments for line-side assembly and work-in-process operations. The GitterPak was designed to better protect and transport parts in global automotive and industrial applications by eliminating the need for steel stillages, gitterboxes or wooden crates commonly found in automotive/industrial packaging systems.
The innovative three-runner base design allows the GitterPak to fit into current supported racking systems or automation systems that are currently standardized on the European 1200 x 800 footprint. The runner's double-wall construction was designed to withstand impact from fork trucks, while its two-snap engagement ensures secure runner-to-base connection.
The GitterPak is engineered as a strong and durable container for heavy weight loads requiring increased packaging protection, while optimizing pack density. This advanced FLC is structural-foam molded in high-density polyethylene (HDPE), designed for durability, product protection and a long service life. Up to four large access doors are available for easy loading and unloading, and efficient access of parts at the line. The GitterPak offers multiple identification options to meet customers' specific material handling and supply chain needs. Additionally, it can be fully recycled at the end of its service life, making it an environmentally friendly packaging option.
Additional GitterPak benefits include:
• Featuring a best-in-class 900 kg weight capacity designed to replace steel gitterboxes.
• Ship more of your product per return truckload by offering a lighter tare weight and heavy-duty collapsible design — ship 272 collapsed GitterPaks versus 78 non-collapsible metal bins.
• Excellent interior access and greater ergonomics for operator safety, with large access doors available on up to four sides.
• Reliable part quality and plant cleanliness, with all-plastic material that is easy to clean, won't rust and prevents metal-on-metal part damage.
• Attractive ROI, with lower total cost of ownership.
• Multiple identification options to visually manage inventory.
• Strong handling performance, with a double-wall, three-runner base that is fully repairable.
More info: