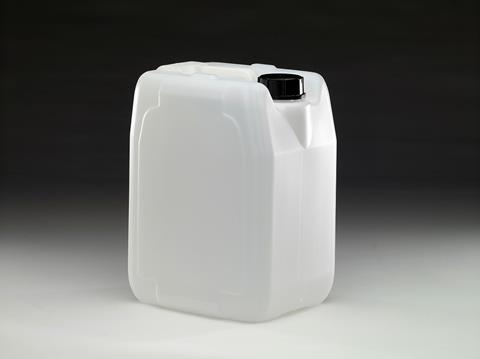 The newly-released SmartCan range from RPC Promens combines sophisticated design and practical innovation to create a series of multi-purpose, aesthetically-appealing canisters designed for the tough requirements of the chemical industry.
The SmartCan's unique design means that it provides a host of unprecedented features that together make it the best choice for manufacturers in need of a container to boost their overall efficiency and, at the same time, reduce their environmental impact.
Its large side panels allow for prominent labelling display, while the top part of the labelling area offers the possibility of attractive engraving for company logos, elevating it from merely an industrial container to a powerful marketing tool for corporate images. Label panel protectors ensure any labels remain safe when the cans are stacked side-by-side.
The SmartCan features a square profile with no protrusion of handle or cap, while the conical design of its DIN61 mm neck neatly protects the cap from contact with other containers and also allows for optimised emptying. Defined corner ribs are sleeve-friendly and provide real strength and stability for stacking, allowing for a reduction in overall weight and unnecessary wall thickness.
Ease-of-use is guaranteed by the SmartCan's improved pinched handle design, which provides more hand clearance to ensure safer handling. The indented grip at the base, meanwhile, guarantees the safety of users and facilitates handling and 50% better pouring than competing canisters.
In addition, stacking knots enable a 180° stackability function, and the can offers weight optimisation in this area of 10-15% versus comparable competitive canisters. A stripe along the side, available on the 20 litre and 25 litre containers, conveniently allows users to identify the level of remaining liquid.
The can is approved for the carriage of hazardous goods with RPC Promens closures, including the DIN61 Premier cap, which has been redesigned for better ergonomics, asethetic appeal and more comfortable grip.
In addition to its tamper-evident ring, the cap includes an EPE washer for safe sealing. The Premier cap also features venting membranes that are designed to stabilise pressure in the container, allowing for gas exhange, and at the same time providing an effective barrier against bacterial infection.
More info: