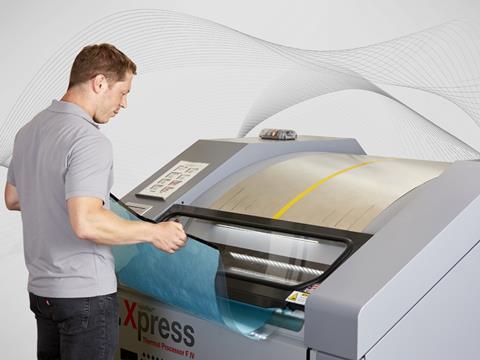 The global packaging industry with its major market segments in labels, flexible packaging and cardboard as well as corrugated board packaging, is growing at an average annual rate of three percent. Flexographic printing is a world leader in terms of printing processes used for packaging production. Emotions also run high in the discussion about the ecological effects of packaging which targets flexible plastic packaging.
Flint Group develops, manufactures and markets a comprehensive portfolio of consumables and accessories for the flexographic printing and packaging printing industries. These include photopolymer flexo printing plates and flexo sleeves, equipment for imaging and processing printing plates and printing forms, sleeve and adapter systems as well as printing inks and coatings for flexo printing and digital printing. Flint Groups nyloflex® Xpress Thermal Processing System is a simple, quick process for the production of flexo printing plates. This technology eliminates the need for solvent, as the system does not require any hazardous substances, and the space requirement is minimal.
The nyloflex® Xpress System uses flexo printing plates specifically developed for thermal processing. In the processor, the thermal printing plate is first heated to a defined temperature inside the processor, and then the unexposed polymer is pulled out of the plate by a developer roll. After that, the plate only needs to be light finished. This eliminates the time-consuming washing out and drying of the plate which is needed in solvent plate processing. In addition, flexo printing plates and developer rolls can be fed into a single recycling stream, because they share the same waste code. The total processing time for a thermal flexo printing plate, including all process steps, is about 45 minutes that is considerably faster than the solvent process of plate making.
The innovation of the zone-controlled heating system in the processor is based on a highly efficient infrared module that monitors and guarantees precise heat distribution over the entire width of the drum and in the plate. The heat regulation of the system does not require any cooling. Consequently, this technology can achieve an overall energy saving of up to 88 percent.
Moreover, much less waste is generated compared to other system solutions. Specifically, the nyloflex® Xpress Thermal System consumes about 30 percent less nonwoven material per square meter, which means the fabric is 30 percent less dense, which results in a better plate quality. Furthermore, the waste balance is improved even more, as there is no need for any PET carrier film in the processor. This all leads to reduced operating costs and improved productivity.
VOC restrictions and the ongoing trend towards more sustainability in the printing industry are currently providing a thrust for the thermal plate processing market and boosting interest in the nyloflex® Xpress Thermal System outside of the label industry, particularly in the flexible packaging and corrugated board markets.
"We are currently looking at two fields of innovation. The first of these is the further development of the nyloflex® Xpress Thermal System. Later this year, Flint Group will introduce a thermal processor for processing larger plate formats; this is specially designed for printing flexible packaging and expands or completes our portfolio of small-format processors, which primarily serve the label sector," said Friedrich von Rechteren, Global Commercial VP Flexographic at Flint Group.
"Also, we will continue to adapt and optimise our range of flat top dot plates for thermal processing. The same goes for our solvent-processable flat top dot plates. In this area, we will continue to advance plate development for the printing of flexible packaging. In 2019, we will also release several flexo printing plates whose special features have been further optimised for the various market segments."
This content was sponsored by Flint Group.