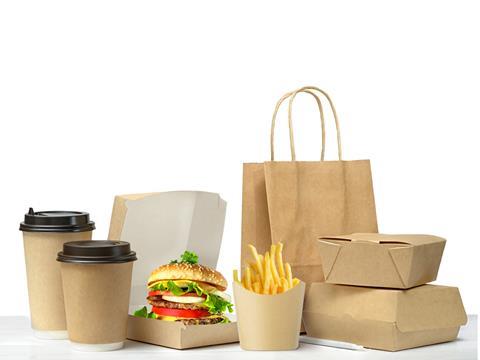 In this Innovation Spotlight, Omya reports on how it has enhanced its barrier portfolio of high-performance solutions with the acquisition of Solar Inks and its bio-based barrier solutions.
Paper and board are environmentally-friendly alternatives to plastics that naturally lack functional properties such as oil or water repellency. Fluorinated polymers, laminated polyolefins, or extrusion coatings are typically used to equip fiber-based packaging solutions with these required functionalities. These traditional technologies impact our environment negatively by impairing the recyclability of packaging solutions.
To offer environmentally friendly alternatives that meet the European Union principals, "reduce, reuse, recycle" as enterprises or individuals, Omya offers a wide range of barrier solutions.
As the reuse of most food packaging is not possible, recycling becomes even more relevant. Under the upcoming Single Use Plastic Directive of the European Union, certain products made from plastics will be banned, forcing the industry to create innovative solutions quickly. The natural qualities of paper and board combined with functional barriers are an excellent way to gain much-needed functionality while meeting environmental objectives.
In support of the industry goal to transition from a linear to a circular economy, Omya set recyclability of the coated paper and board material as a top priority for its barrier coatings. As a global player in mineral modifiers and additives with a 135 years history, Omya has a strong focus on research and innovation.
With the recent acquisition of Solar Inks Ltd in the UK, the company now complements its portfolio of calcium carbonate-based Extomine® solutions with Solar Inks' bio-based EarthInks® product lines, supplied to some of the largest brand owners and packaging converters.
Today's portfolio covers a wide range of barrier functionalities such as oil and grease, water and vapor, mineral oil, aroma, and sealing properties for rigid and flexible applications.
Extomine® Barrier Coatings
Best performance for the highest demands.
A portfolio of water-borne barrier coatings based on calcium carbonate and acrylic co-polymers, easy to blend with other components for food packaging applications. Covering the full range of product shelf life, Extomine® coatings are the preferred choice for high performance at an optimized total cost of ownership.
EarthInks® Barrier Coatings
Up to 100% natural, sustainable ingredients.
This is an engineered product range of bio-based coatings featuring compostability and biodegradability, targeting the fast food and vending materials market. EarthInks® barriers can be tailored to specific requirements in product performance and application technology.
Product portfolio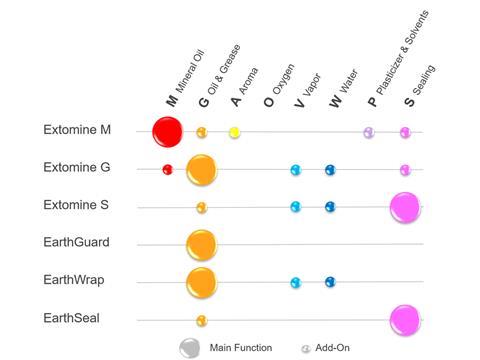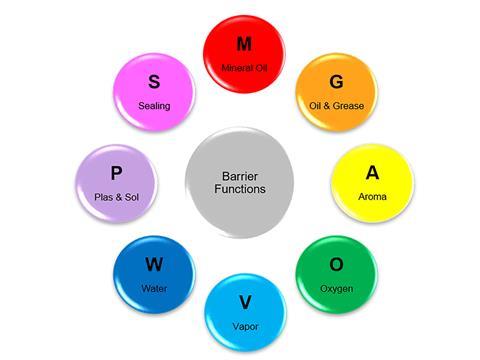 For easy application, all Omya coating products are delivered as ready-to-use aqueous dispersions that can be applied on currently installed coating equipment such as pond sizer, MSP, bar, blade, or curtain coaters; or with printing technologies such as flexo or rotogravure printing.
Omya has also worked to address the needs of fiber molded product producers using spraying technologies. All Omya barrier coatings are compliant with industry-standard food contact regulations like BfR, FDA, or GB. A team of technical experts is available to assist customers with implementation if required.
To find out more about Omya's barrier solutions, visit: https://barrier-coatings.omya.com/
About Omya
Omya is a leading global producer of industrial minerals – mainly derived from calcium carbonate, dolomite and perlite – and a worldwide distributor of specialty chemicals.
The company provides a wealth of innovative product solutions that contribute to its customers'​ competitiveness and productivity in multiple industries such as construction, paper and board, polymers, food, and personal and home care. Omya further provides environmental solutions targeting the agriculture, water, and energy markets.
Founded in 1884 in Switzerland, Omya has a global presence extending to more than 175 locations in over 50 countries with 9,000 employees.
Committed to implementing the principles of sustainability at all company levels, Omya provides added-value products and services from responsibly sourced materials to meet the essential needs of current and future generations.
This content was sponsored by Omya.