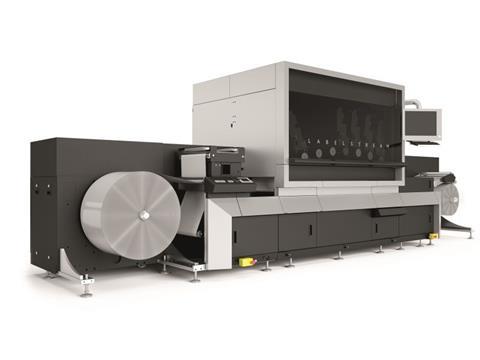 Océ, a Canon company, presents the new Océ LabelStream 4000 series, an industrial-scale UV inkjet press with optional flexo printing, embellishment and finishing units, offering a productivity range of 950 - 1672 sqm/h.
The latest addition to the production printing portfolio underlines the Canon and Océ strategy to invest in growing industrial printing segments. Combining the virtues of UV inkjet printing with conventional technologies, this innovative label press delivers value-add in terms of time, cost and value, enabling converters to select the best combination for any production requirement.
Christian Unterberger, Chief Marketing Officer & Executive Vice President Production Printing Products (PPP), outlines what makes the new label conversion solution special: "The Océ LabelStream is based on the inkjet DNA of Canon and Océ. With this comprehensive solution package optimized to benefit from current market dynamics, label converters can boost their profitability for short and medium job sizes, and amaze customers with labels of exceptional quality and customized messaging."
The new press has a key role to play in the wider company strategy, as Crit Driessen, Vice President & Head of Digital Packaging PPP, explains, "Océ is keen to break into forward-looking markets, and industrial packaging printing offers excellent opportunities for new revenue streams. Digital products currently account for only a relatively small part of this market worldwide, but the share expected to grow rapidly. We are confident that market players will appreciate the Océ LabelStream's productivity and customizing abilities as a way to add value to label printing."
Mr. Driessen tells Packaging Europe that this is the company's first product that has digital labelling for packaging applications at its core. He sees significant growth potential in the labelling and packaging industries."In the near future, I see the biggest growth potential for Océ in the field of graphic arts. But mid term, packaging will be very important in the future. We now have a dedicated sales force for this market and expect revenue growth and new product launches."
At its core the Océ LabelStream 4000 series is a 5-color UV inkjet press (CMYK and white) with a print speed of 48 m/min. It offers print widths of 330 mm (13") or 410 mm (16") and an optional performance mode of 68 m/min for less demanding print jobs. Providing a one-pass digital high opacity white of more than 80% at standard press speed the opacity of analogue printing technologies such as rotary screen and flexo can be matched.
Latest Xaar 2001 UV inkjet printheads with a resolution of 720 x 600 dpi and different quality modes guarantee the reproduction of fine details, smooth tones, vibrant color and solids on a wide range of standard label stocks including PP, PE, BOPP plus selected special substrates.
The system can be expanded to a full hybrid configuration with a custom mix of additional flexo, embellishment and finishing units turning it into a fully integrated single-pass label conversion line to meet various demands and budgets.
This mix of conventional and digital technologies enables fast, affordable production of high-quality self-adhesive labels – for example for fast moving consumer goods, cosmetics and pharmaceuticals. Along with the ability to deliver cost-efficient print-to-order run lengths to avoid overproduction digital printing offers an unbeatable advantage in this segment: customization. As more brands move to attract customers' attention through customized packaging it is obvious that digital printing can add significant value to increase sales and enhance brand awareness.
The Océ LabelStream offers flexibility and gives users the freedom to complete orders at short lead times: easy set-up and make-ready accelerate system availability. Production costs stay low, delivering a speedy return on investment.
Christian Unterberger is confident that the new Océ LabelStream will hit the mark: "The new Océ LabelStream 4000 series is the next step in advancing our market strategy. We plan to grow in the packaging market and ultimately play a leading role."
Commercial availability of the Océ LabelStream 4000 series in Europe will be end of 2018.
More info: